2017 Houston Cougars fall practice preview: quarterbacks
By: Jimmy Schofield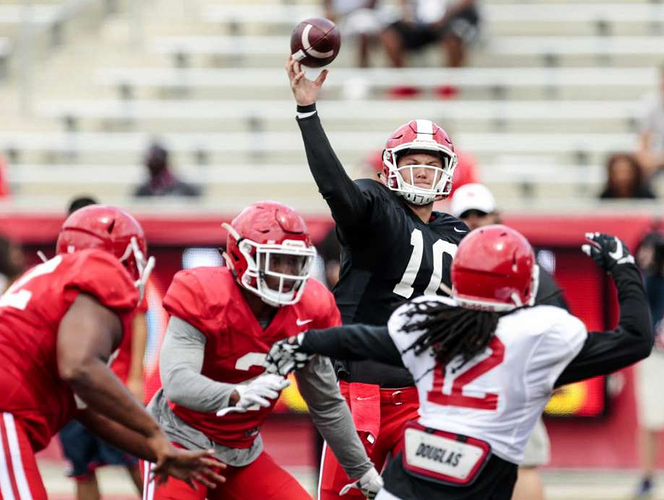 photo courtesy
houstonchronicle.com
With fall camp officially beginning later today (8:30am local time), Coogfans has been breaking down each position for your 2017 Houston Cougars football team led by first year head coach Major Applewhite. Each Monday a new article has been published, with today's final focusing on the most important position on the field; quarterback.
Anyone who saw Greg Ward Jr. play in high school knew he was a special athlete, as he accumulated over 10,500 all-purpose yards as a wide receiver and QB at John Tyler High (to go with 71 passing touchdowns to only 13 interceptions his final two seasons). But to see him win 27 out of 32 starts over the past three seasons along Cullen Boulevard (while adding another 8,400 yards and 52 touchdowns with over 2,300 and 39 TD's on the ground)? Many probably didn't see those kind of eye-popping stats and wins coming. Alas, the magical play at the QB spot is over (with Ward currently wowing Philadelphia Eagles fans to no surprise of any Coogfans). For Applewhite and new offensive coordinator/QB's coach Brian Johnson it's time to start anew again in 2017, as a new coaching staff leads a new starter on the field Sept 2 at UTSA.
With that we take a look at the post spring depth chart:
Post-Spring depth chart (this is my guess as Applewhite hasn't released an official depth chart)
Kyle Allen (6-foot-3, 210 pounds, RJr.), Kyle Postma (6-2, 200, Sr.), D'Eriq King (5-11, 190, So.), Mason McClendon (5-9, 180, RJr.)
True freshman contributor
Bryson Smith (185, Fr.)
Smith is Ward-esqe in his play, even playing at the same high school, John Tyler. He finished his career with the Lions passing for 5,705 yards at a 61-percent completion clip to go along with 52 TD's to only 16 interceptions. The 3-star recruit also added 3,100 rushing yards and an additional 44 TD's on the ground. With fierce competition at the position look for Smith to redshirt and possibly become the QB of the future.
Analysis (of 2016):
Allen impressed nicely last season as a member of the scout team as he redshirted after transferring from Texas A&M at the end of the 2015 season. In two seasons in College Station Allen passed for 3,522 yards and 33 TD's to 14 interceptions in 20 total games (14 starts which saw him win 9 of them). He completed just 59-percent of his total passes however (278-of-475), but some of that was associated with a sprained AC joint in his throwing shoulder during his final season. After not liking how head coach Kevin Sumlin juggled the position during the latter part of the 2015 season because of his injury, which he claims was misdiagnosed, along with certain "cultural issues," Allen transferred to UH in December 2015.
Allen is the presumed starter because of his rocket of an arm and at 6-3 can see over opposing defenses. The former consensus 5-star recruit who was ranked as the best pocket-passer for the 2014 class also has the confidence to fit the ball into tight windows in zone coverage or over outstretched defenders hands in man free.
The Scottsdale, Arizona native completed 63-percent of his passes over three spring scrimmages (56-for-89) but didn't toss the long ball too many times. Of course this was in part because of an offensive line that was mixed-and-matched due to injury as well as a wide receiver core that didn't take many reps together, also because of injury.
What made Ward such a great signal caller was his accuracy on intermediate passes such as the back shoulder fade, crossing pattern or comeback route. Allen needs to show touch on these types of passes in order to thrive under Applewhite.
Expectations (for 2017):
The battle for the backup spot will be between Kyle Postma and D'Eriq King, though Applewhite has said all the QB's will take equal reps with the first and second units for the first few weeks of preseason camp until the starter is determined. Postma has started two games over the past two seasons in relief of an injured Ward, winning one but showing nice leadership skills and sneaky athletic ability. Who will ever forget that 29 yard run on 3rd-and-7 late in the 2015 Peach Bowl against Florida State that helped lead them to a 38-24 victory over the heavily favored Seminoles. Earlier in the season he took over for an ailing Ward in a home game against Memphis in which the Coogs were trailing 20-0, just before halftime. In a little more than a half later he led the team to a 35-34 victory in which he completed 21-of-33 passes for 236 yards while adding another 49 yards on the ground on 6 carries, including the game winning 7-yarder with under 2-minutes remaining. Whatever the offense has needed the past two seasons, the Katy Seven Lakes product and Trinity Valley CC transfer has produced. He's completed 63-percent of his 72 total attempts, with a 115 passer efficiency rating, while averaging 7.7 yards-per-rush on 43 total carries. He's also had 145 yards on 6 receptions during the 2015 season, good for a 24.2 average. He showed physicality on a dazzling 33 yard run-and-catch for a TD against Tennessee Tech in the season opener and then went over the top of a defender on a 49-yard grab two games later against Texas State.
D'Eriq King is more of a true dual-threat QB in the mold of a Ward as he showed glimpses of his athletic ability last season as a true freshman as he had a 48-yard TD reception on a speed sweep "push pass" and a 99-yard kickoff return for a score at Texas State. A 4-star recruit via ESPN, King passed for over 10,000 career yards to go with a sick 11:1 TD-interception ratio (93 to 8) over his final two seasons at Manvel High. True to his dual-threat moniker, he added over 3,000 rushing yards while crossing the goal line another 47 times. The third-string QB may switch over and play wide receiver depending on the depth of that position but Applewhite said King will have a package at QB even if he's not the starter so Johnson can take advantage of his athletic ability as the play caller.
Mason McClendon earned a scholarship over the spring and 26-of-51 passes for 293 yards and 2 TD's over the three spring scrimmages. He saw action in three games last season as a holder. The Midland Christian product wasn't heavily recruited out of HS due to mainly his size and the classification of the Mustangs (TAPPS Division 2 District 1), because he produced on the field as he threw for over 9,200 yards while winning 39 of 42 career games and a state title.
Though Allen will probably end up being named the starter, what Applewhite, Johnson and the rest of the offensive staff are looking for from the position is who best takes care of the football, who can make the throws and who can make plays "off schedule," (IE scrambling when blitzed). What will really be interesting will be the dynamic between the type of offense that Applewhite/Johnson want to run versus what they'll run this year. With Allen being more of a prototypical pocket passer there won't be too many called zone read option runs or straight QB draws that were prevalent when Ward was under center, though Allen is underrated athletic ability wise. Allen has one more season of eligibility remaining after this year, but it seems the coaching staff wants a more "diverse" offense with the types of QB's they've been recruiting, IE the King's, Bryson Smith's and the 2018 recruiting classes prized recruit thus far; Chance Amie, a 6-3, 190 pound 3-star prospect out of Tyler's Robert E. Lee.
Whether the offense remains more "dink-and-dunk" or more shots down the field are taken, make no mistake; the 2017 offense will be more passer friendly as Allen's skillset under center will dictate it to be.
My previous position previews over the past seven weeks. Stay logged into Coogfans.com for all the latest news on your Houston Cougars.