2017 Houston Cougars fall practice preview: wide receivers/tight ends
By: Jimmy Schofield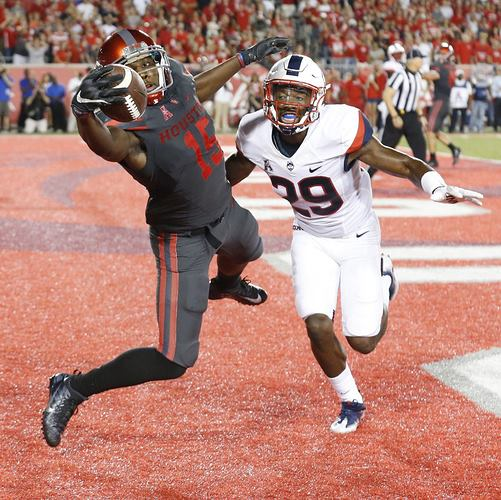 With the dog days of summer upon us, Coogfans will break down each position for your 2017 Houston Cougars football team led by first year head coach Major Applewhite. Each Monday a new article will be published, with today's focusing on the wide receivers and tight ends.
With Kyle Allen the presumed starter at quarterback for new offensive coordinator and QB coach Brian Johnson (more on that next week), the former 5-star transfer from Texas A&M will need some wide receivers to step up and make plays for him. While Allen does have good arm strength, hopefully he's gotten down the timing with his receivers in the deep passing game because from the looks of the spring game, this offense may be more "dink-and-dunk" than "bombs away," but we'll reserve judgement until the real games start.
Aside from the top two leading receivers (Bonner and Dunbar whom we'll preview below), the other six scholarship receivers (not including incoming freshmen or athletes listed at QB whom we'll also preview below) have a combined 42 career receptions for 477 yards.
With that we take a look at the post spring depth chart:
Post-Spring depth chart (this is my guess as Applewhite hasn't released an official depth chart)
Outside receiver (X): Steven Dunbar (6-foot-10, 210, Sr.), Keith Corbin (6-2, 175, So.)
Slot (Y/H): Linell Bonner (6-foot, 205, R-Sr.), Terry Mark (6-1, 190, So.)
Outside receiver (Z): Ellis Jefferson (6-4, 200, G-Sr.), Courtney Lark (6-1, 165, So.), John Leday (6-foot, 200, R-Sr.)
Tight End (H/Y): Alex Leslie (6-5, 240, Sr.), Romello Brooker (6-4, 240, RJr.), Kobe Idumwonyi (6-2, 245, RSo.), Mason Tobola (6-2, 205, RFr.)
True freshman contributors
Jeremy Singleton (5-11, 170), Tre'von Bradley (5-11, 185), Parker Eichenburger (6-3, 230)
Singleton was a 3-star ranked recruit out of Brother Martin High in New Orleans, La., finishing as their all-time leading receiver with 76 catches for 1,384 and 19 TD's. He's a speedy slot receiver but like all true freshman, needs to work on his fundamentals, particularly route running and gaining separation and will probably redshirt this season. He chose the Coogs over the likes of Arkansas, Minnesota, Cincinnati and Vanderbilt.
Bradley was recruited as an "athlete" as he did a little of everything at Cleburne High. He passed for 2,247 yards with 23 TD's to only 6 interceptions and rushed for 1,814 yards and an additional 26 TD's on 201 carries just last year alone. Yes, all that was during a spectacular 2016 season (4,061 total yards of offense and a combined 49 TD's) in which he was named Class 5A All-State honorable mention while being named the District 9-5A MVP for a 7-4 Yellow Jackets squad. He'll play receiver for the Coogs and will probably redshirt as he learns the finer points of the game. Applewhite and his staff are just looking to recruit super-fast athletes and place them where they best fit. Bradley reminds me of a D'Eriq King, another great athlete who played QB on the high school level but will presumably play a "skill position" on the next level.
Eichenburger meanwhile will line up at tight end and will probably contribute this season as there are only five student-athletes listed on the active roster at the position after the departure of Tyler McCloskey, who's now a fullback for the San Francisco 49ers. The Katy product is a traditional in-line blocking tight end who excelled for the Tigers power run offense. He'll have a huge hand in helping to replace McCloskey's blocking value, whether it was a seal block to spring a running back off the edge or a kick-out block allowing Greg Ward Jr. to run untouched at the line of scrimmage for a potential huge gain.
Analysis (of 2016):
If any student-athlete gets down about being a walk-on, all he/she has to do is look at the story of Linell Bonner (pictured above), who had a combined 25 receptions for 317 yards and 5 TD's through his first three seasons (all from the 2015 year in which he earned a scholarship). Through hard work the Dekaney High product become Greg Ward's most trusted target last season to the tune of an amazing 98 receptions (FIFTH nationally) for 1,118 yards and 3 scores. As sure-handed receiver as there is in college football, Bonner has become a precise route runner and is tough, being able to absorb big hits over the middle while still holding onto the rock. For his efforts Bonner is on the pre-season Biletnnikoff Award watch list, given to the best receiver in the nation.
For all the hype surrounding Bonner, it was Steven Dunbar who was chosen (along with linebacker Matt Adams) to participate at the AAC Media Days last week by Coach Applewhite. Having great "humility and work ethic" is how the head coach best described Dunbar when asked last week in Rhode Island. Dunbar enters his fourth and final season on Cullen Boulevard with a combined 104 receptions for 1,360 yards and 8 TD's and having started 25 of the past 26 games over the past two seasons. His 13 career yards-per-catch average demonstrates his big play ability on the outside as he's a huge and reliable target whether it's on a go-route, slant, comeback or my favorite route; the back shoulder fade. The Rummel High (Metairie, La.) product is a tough blocker in the run game as well which is integral to playing the position for Applewhite.
With Chance Allen graduating as the other outside receiver, Ellis Johnson will be given the opportunity to step in and contribute in his only season as he's a graduate transfer from Arizona State. The Denton, Texas product was a highly ranked 3-star prospect out of the 2013 class and chose the Sun Devils over programs such as Michigan, Mississippi State, Washington and Colorado. He helped lead Denton-Guyer to the class 4A Division-1 state title in 2012 with 176 yards and two scores in the championship game. His first three seasons in Tempe saw him catch a combined 25 balls for 325 yards and two TD's after redshirting during the 2013 season. Another big target in the Allen and Dunbar mold, Johnson will have to become an adept blocker if he wants to play.
Expectations (for 2017):
Expectations offensively for the receivers will be this; besides Bonner and Dunbar, players are going to need to step up and make plays for whomever the starting QB is; namely Mark, Corbin and Lark. The three highly recruited athletes didn't contribute much in their first seasons on Cullen Boulevard for whatever reason, mainly being true freshmen and injuries. This is important because it will be the last season for Bonner, Dunbar and Jefferson and the future of the offense will rely heavily on players stepping in and producing.
My 2016 recruiting analysis on all three aforementioned sophomores:
On Mark: A high 3-star product who had nearly 1,400 yards and 20 TDs his last two seasons at Lufkin. Though he has the size of a possession receiver, Mark also has the speed to go deep as well. Mark had 113 yards on 7 catches with 3 TD's during the three spring scrimmages after contributing only 3 catches for 8 yards in 7 games last season.
On Corbin: Another highly ranked 3-star receiver who makes tough receptions over the middle and is great in YAC yards (yards after the catch) as his 19.7 ypc attests (887 yards on 45 receptions at Beaumont Westbrook). He had 5 catches for 52 yards during the three spring scrimmages after catching only 6 balls for 68 yards in 7 games (with 2 starts).
On Lark: A 4-star receiver who's a deep threat and great at getting off the line and downfield quickly as he averages 17.9 yards-per-catch and nearly 90 yards-per-game (2,943 yards on 164 receptions) along with 39 TD's in 33 career games for Bellaire High. He has the athletic ability and hands to highpoint the football in jump ball situations, particularly in the red zone but is also a precise route runner who's able to find holes in zone coverage. Needs to gain muscle but he reminds me of a young Demarcus Ayers in that Applewhite will look to get the ball in his hands out in space, whether it's on a speed sweep, screen or dump off passing as he's running out of the backfield. Lark was injured early in the spring and was held out of non-contact drills for the most part after adding only 3 catches for 26 yards in 4 games last year.
Leday had 8 receptions for 41 yards during the 2015 season, but hasn't recovered much from the injuries suffered during his first two seasons on campus (2013 and 14) and brings up the rear on the depth chart. The Port Arthur Memorial product did have 117 yards on 12 receptions during the three spring scrimmages in showing that he wants to be a contributing member of the receiver core.
Derek McLemore (6-foot, 197, RSr.) is a walk-on who has 2 career catches for 12 yards but led the unit with 21 receptions for 138 yards over spring ball and could contribute if any of the other players don't step up.
Two wildcards at receiver could be Kyle Postma (6-2, 180, Sr.) and D'Eriq King (5-10, 170, Manvel) who will both be vying for the starting and possibly backup QB spots over fall camp. Postma caught 6 passes for 145 yards (24.2 ypr) in the first few games before moving to QB due to injuries early in the 2015 season. He was the backup QB all of last year and sat out the spring as he was recovering from an arm injury that occurred late last year. He could potentially be dynamic on the outside high-pointing the ball as he has a 10-foot broad jump, allegedly.
King burst on the scene last year as a true freshman with 304 total yards (228 receiving, 56 rushing and 20 passing) on 46 touches while adding an additional 283 yards on 25 kick returns and 6 punt returns. One of those kick returns was a 99 yard TD at Texas State. The 4-star ranked product out of Manvel is shifty out of the slot via speed sweeps and can be used in various formations, motioning to and out of the backfield in order to get the ball into his hands quickly in space.
The pecking order at QB could determine how much Postma and King see the field at receiver, as well as how the other aforementioned receivers produce. If Postma is the backup (or plays his way into the starter's role) he'll likely see few if any snaps under center. King may be too talented not to get the ball into his hands in some form or fashion. If he ends up as the third string QB he may see a lot of snaps at receiver, running back and in the return games as well.
Marquez Stevenson (6-foot, 175, So.) was looking to make an impression during the spring until he tore an ACL and was ruled out for the season. This is his second major injury in a row as a broken collarbone held him out most of last year except for two games, in which he had one carry on a speed sweep for 36 yards.
At tight end, it's Alex Leslie and Romello Brooker's position to lose as they have a lot to replace in McCloskey, leadership and blocking wise. Leslie has good hands in the passing game but is big enough to block if he's lined up in-line. Due to ankle injuries early on he was limited in playing time as he caught just one pass for six yards in seven games last season. The former Iowa St. transfer played at New Braunfels high where he was an All-District 25-5A first team as a wide receiver during his senior season in 2012. Brooker is more of a receiver than blocker as he caught just two passes for 10 yards but had a nice 6-yard TD on an out-route over an outstretched UCF defender. At 6-4 he could become a nice redzone target.
Idumwonyi meanwhile was just cleared to re-join the team after having to "retire" due to concussion issues. Ranked as the 26th ranked tight end by ESPN coming out of Cedar Hill High, Idumwonyi is a spectacular athlete who helped the Longhorns win back-to-back state titles while being named all-district first team during the 2013 and 2014 seasons but hasn't seen the field in his first two seasons as a Cougar.
Wide receivers coach Kenny Guiton and tight ends coach James Casey will have the same issues each of the other position coach's face; a lot of talent but little playing experience in reserve. It will be up to both first year full time assistants to "coach them up" on the field in order to maximize the players' potential. Next week we conclude our fall practice preview series with a look at the most important position on the field; quarterback.