Hello Everyone,
This is a first of many posts hopefully depending on how much everyone finds it informative and useful. After watching our defense perform the way it did, I couldn't help but believe that the defensive coach was more so responsible for that performance than our players. In order to dig a little deeper, I put together at a high level historical stats of coach MD.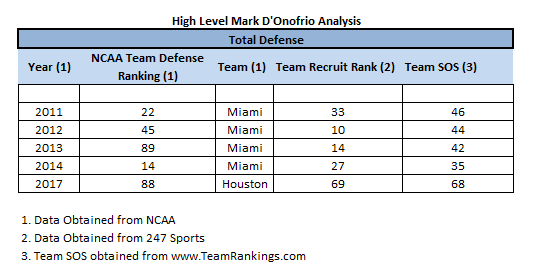 What the data tells us
Since Mark D'Onofrio started coaching at Miami (2011-2015), his overall team defensive ranking was highly volatile, with the best being at 14 and worst at 89. The overall recruiting class rank relatively stayed consistent or worsened over time. Miami played a strength of schedule between 35 and 45 during his tenure. From 2008 to 2010, Miami averaged a top 10 recruiting class in the nation, leaving Mark with a highly talented pool of players. Mark's best years as a DC came at Miami in 2011 and 2014. However, majority of his work at Miami would indicate that his defense was not particularly successful seeing that total defense slipped from 22 to 89 between 2011 and 2013. In short, the argument can be made that Mark was neither exceptional nor the worst among the DCs out there. His results are highly dependent on his recruiting classes and considering the ranking of his recruits, he overall under-performed as a coach. From the data above, one can clearly make the judgment that Mark was not exceptional at developing players and may not be the best fit for Houston where the key to success is the development of players.
Let me know what your thoughts are on the data presented and if you would like to see similar stats and analytics.
To the mods, I know you merged all Coach MD's topics, but I did not want my work to get buried in the posts. It took me time to compile all the data, hope you understand.