I did a high level analysis of coach MD earlier this week here. Here is one on Todd Orlando for comparison.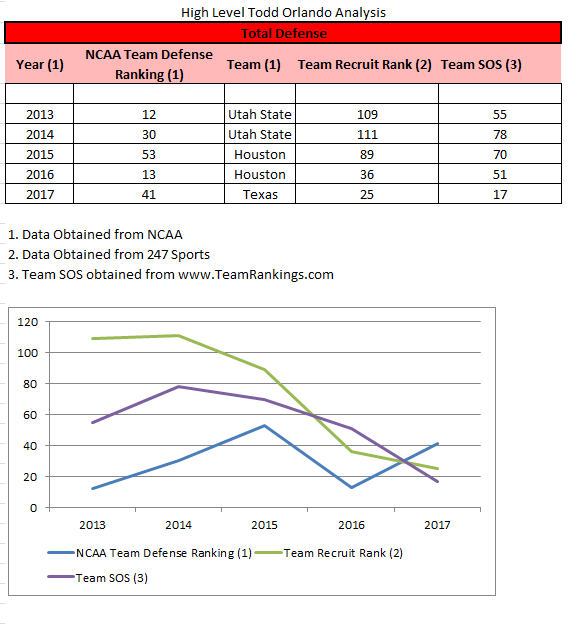 What the above data tells us: This analysis covers Todd Orlando's coaching career as a defensive coordinatior at Utah State from 2013-2014, Houston 2015-2016 and Texas in 2017. We are going to break this up by University, first looking at Utah State, then UH, and then finally Texas.
Utah State
Todd took over at Utah State in 2013 where during the course of his tenure his recruiting class ranking average was 110. Before taking over the reigns as DC, the previous three years Utah averaged a class ranking of 108, leaving Todd with players requiring plenty of development. With these players, his total defense ranked #12 in 2013 and #30 in 2014, indicating that he possesses a strong ability to coach players. The recruiting class before Todd's arrival was similar before and during his career at Utah, indicating that the recruiting class rank was a nonfactor in his ability to improve upon the total defensive ranking for Utah State.
Houston
Todd took over as a DC for the Cougars in 2015 where during the course of his tenure the recruiting class ranking was 62.5(average of 2015 and 2016). Houston's total defense in 2015 ranked at 53 in the nation while in 2016 it improved to 13th in the nation. This improvement came on top of a step up in the SOS from 70 to 51 between 2015 and 2016. His time at Houston further supports Todd's ability to coach players at a championship level regardless of their recruiting rank. Prior to Todd's arrival, the Cougar defense in 2014 ranked 20 and in 2013 79, indicating that a talented pool of players were available for him to utilize. Another point to note here is that the players that Coach Orlando worked with were from recruiting classes which were ranked 63(average of 2012-2014).
Texas
Todd took over as DC for the Longhorns in 2017 where the Texas defense in the prior season ranked 94 with a recruiting class that ranked 11(average of 2014-2016) in the nation. In his first year at the helm at Texas, Todd improved the Longhorn defense to 41 in the nation, immediately showcasing his impact and his ability to deploy the right scheme with a talented pool of players.
Summary
Regardless of the biases built in all the data sets used and the assumptions in this analysis, it is difficult to deny based on these stats why Orlando was far more successful here at UH than Coach MD.