Cougars Host UCF on ESPN3
Houston and Knights meet for first time since 2016 thriller
http://www.uhcougars.com/sports/w-baskbl/spec-rel/010917aaa.html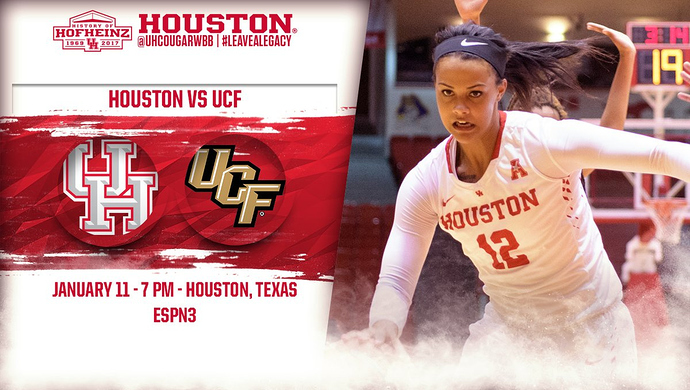 SCOUTING THE KNIGHTS
UCF enters Wednesday's matchup with a 10-6 overall record and a 0-3 mark in American play. The Knights most recently fell 65-62 at home against Memphis on Jan. 7.
As a team the Knights average 64.4 points per game, while allowing their opponents to score just 55.8. UCF shoots 41.5 percent from the field, but just 27.1 percent from beyond the 3-point line, while allowing opponents to shoot 39.3 percent and 30.0 percent, respectively. On the glass, the Knights have dominated all season, holding a 9.8 rebound per game advantage at 40.7 to 30.9.
Individually, the Knights are led by Zykira Lewis who has scored 16.2 points per game through the first 16 contests of the season. Aliyah Gregory also averages double figures with 12.5 points per game. On the glass, UCF has received 7.0 boards per game from Joslyn Massey, while Tolulope Omokore's 6.2 rebounds per game ranks second on the squad.