Important stretch for the Cougars as they begin an 8 game set against teams with losing conference records. Chance for the Coogs to boost their record.
http://www.uhcougars.com/sports/w-baskbl/spec-rel/011518aaa.html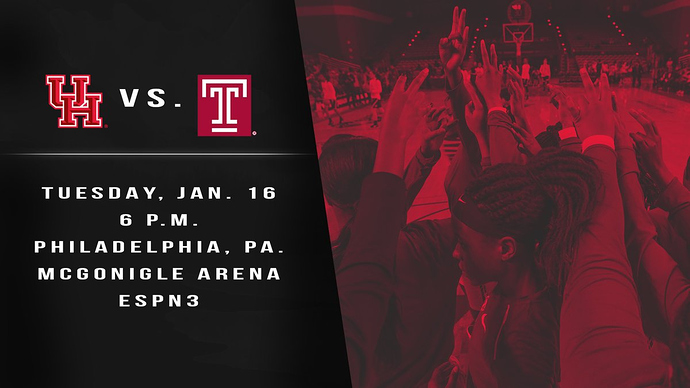 SCOUTING THE OWLS
Temple enters Tuesday's contest with a 9-7 record and a 1-3 mark in American Athletic Conference play, after dropping back-to-back games to USF (89-73) and at Cincinnati (80-72) over the last week of play.
The Owls shoot 39.0 percent from the field and 29.7 percent from beyond the 3-point line, leading to 67.7 points per contest. Conversely, Temple allows its opponents to score 67.4 points a night, while letting them shoot 41.0 percent from the field and 28.0 percent from deep.
Temple has two players that average double figures in scoring, including a team-best 23.3 points per night from Tanaya Atkinson. Mia Davis ranks second on the Temple squad, scoring 11.3 points per contest.
Both Atkinson and Davis pace the Owls on the glass as well. Atkinson averages almost a double-double per night, pulling down 10.3 rebounds per game to go along with her scoring numbers, while Davis pulls down 8.9 boards per game.