Beyond the Boxscore: Aymiel Fleming
A fine young man
.
Love this kid
UH D-lineman Aymiel Fleming shares special bond with residents at senior care facility
http://www.galvnews.com/sports/college/free/article_1f28d214-21eb-552d-9741-1ad52445777d.html?mode=story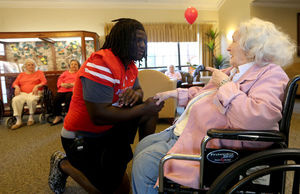 As if the practice and strength and conditioning regimens weren't enough, Fleming is also pursuing a degree in biomedical engineering with hopes of one day designing an improved pacemaker.
Still, Fleming has made it his goal to find time in his busy schedule to keep visiting the residents at Harbourview Care Center that have become like family to him.
"He said, 'No matter what, I can't forget where I started, and I'm always going to make time for the people that I care about,'" Marcie Fleming said. "And he does. He really does."