http://www.uhcougars.com/sports/m-golf/spec-rel/022517aad.html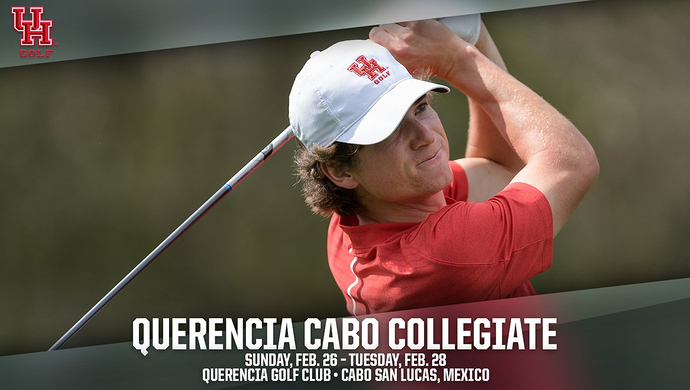 Lineup
Michael Perras
Papito Gonzalez
Matt Scobie
Matt Williams
George Gardner
Emmett Oh (Ind.)
Time
Sunday, Feb. 26 • 18 holes
10 a.m. (CST) shotgun start
Monday,
Feb. 27 • 18 holes
10 a.m. (CST) shotgun start
Tuesday,
Feb. 28 • 18 holes
9 a.m. (CST) shotgun start
Location
Querencia Golf Club
Cabo San Lucas, Mexico
6,928 yards • Par 71
QUERENCIA CABO COLLEGIATE TEAM FIELD
The Cougars will face one of the nation's elite fields when they tee off Sunday morning. The tournament features six of the nations' top 20 programs and 11 of the top 50.
The field includes No. 1 Vanderbilt, No. 5 Georgia, No. 10 Oklahoma State, No. 11 Baylor, No. 18 Wake Forest, No. 19 Texas, No. 21 Duke, No. 26 Arkansas, No. 29 Mississippi, No. 30 Florida State, No. 46 Washington, California, Rice and USF.