Just like football, this is a thread for coach sightings
Jamal Schead sounds like a nice player. Great defense and distributor, with plenty of offense.

Mark is rated #84
Shead is rated #81
I will called that a pretty OUTSTANDING class.
Other players of note:
Peavy #42
Cryer #43
Beekman #46
All three of them have a shot at a McDonald's spot if they balled out hard now (AAU) till their senior season
His name is Jamal SHEAD.
[NOTE: He isn't related to Jim Nance…Nants…Nantz.]
UH is still in this race for one of the top point guards in the nation for '20 with Beekman… Just comparing it to Sasser's interview describing his school's he was visiting, I think UH is not out of it. We're in it. Knowing how Virginia plays offense, hopefully that deters him from going there. Marquette, even tho he was born in Wisconsin, has lost a few top players recently. Let's cross our fingers. This kid has the potential to be playing in the burger game next year. HOpe I'm wrong but I think UH has a higher chance of getting a commit from him or Shead, than Cryer.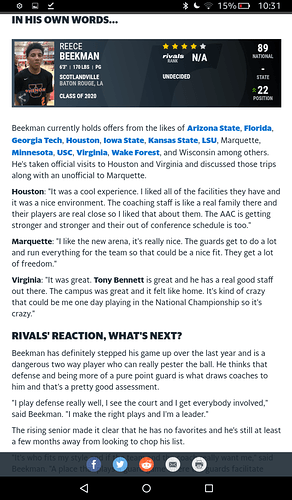 [quote="WoodMarkCos, post:5, topic:18763, full:true"]
His name is Jamal SHEAD.
[NOTE: He isn't related to Jim Nance…Nants…Nantz.]
[/quote]
[/quote]
Sounds like Virginia #1, UH #2, but unless there's a pretty unequivocal statement there's really no way to infer whom a recruit will pick based on these Internet site interviews
Little concerned about Shead. IIRC, he was "warm" to UH until a couple of weeks or so ago. Now he's listed as "cool." OTOH, Cryer and Beekman are listed as "warm" even though we have more competition (and elite competition) for their services.
Really can't go off that since it's not always accurate. It's up to the site admin to keep it up to date.
Who are we looking at in Texarkana?