Cougars Host Cornell at 4 p.m., Saturday
Cougars look to move to 5-0 in first meeting against Big Red inside Hofheinz Pavilion
http://www.uhcougars.com/sports/m-baskbl/spec-rel/112416aaa.html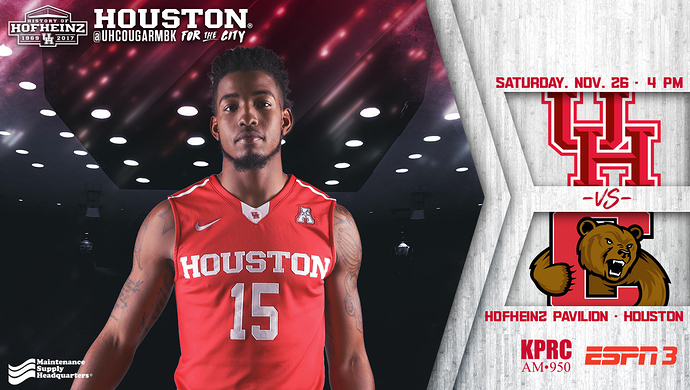 ABOUT CORNELL
• Entering Saturday's game, Cornell has posted a 1-4 record this season… Cornell lost each of its first three games before taking an 82-75 win at Lafayette on Sunday.
• In their most recent action, the Big Red dropped a 76-61 decision at Monmouth on Tuesday.
• Against Lafayette, sophomore forward Stone Gettings and sophomore guard Troy Whiteside led the way with 14 points and two 3-pointers apiece, while senior guard Darryl Smith added 12 points in the losing effort… Smith topped the Big Red with eight rebounds, while sophomore guard Matt Morgan finished with a game-high three assists.
• This season, Morgan leads the team with 15.2 points per game… Gettings stands second with 14.0 points per game but leads the Big Red with 6.8 rebounds and 3.4 assists per contest… Robert Hatter ranks third among the Big Red with 11.2 points per game.
• Former Houston internal operations staffer, student manager and UH graduate David Robertson currently serves as Cornell's director of operations.
• Head Coach Brian Earl is in his first year as head coach at Cornell and as a collegiate head coach. He has compiled a 1-4 career record.
• Was an assistant coach with Cornell for nine seasons (2007-16) before becoming head coach in April 2016. • Was a two-time All-Ivy League student-athlete for Cornell in playing career, including 1999 Ivy League Player of the Year.
• Saturday's game will be the first time that Earl has faced Houston or Head Coach Kelvin Sampson during his career
• 1999 graduate of Princeton.