Pawdcast guys did a good job breaking down USF's issues; this would be a very bad loss for the Coogs if they lose. Hopefully, they come out and put them away early. No word on if Davis will play.
Cougars Compete at USF on Saturday
Cougars tip off vs. Bulls at 11 a.m. (CST) inside Sun Dome in Tampa, Fla.; Look to move to 2-0 in league play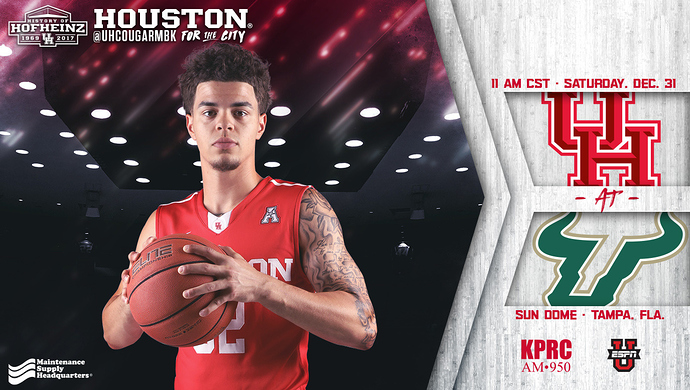 ABOUT USF
• Entering Saturday's game, USF has posted a 6-6 overall record with an 0-1 mark in American Athletic Conference play.
• Bulls have lost three of their last four games with only an 81-53 home win over Delaware on Dec. 22 preventing a longer losing streak.
• In most recent action, USF dropped a 60-49 decision at East Carolina on Wednesday night.
• Against East Carolina, junior guard Geno Thorpe was the only Bull to reach double digits, scoring 18 points on 7-of-13 shooting with a pair of treys, two rebounds and two assists… Freshman forward Tulio Da Silva came off the bench to grab a team-high 12 rebounds.
• This season, Thorpe leads the Bulls with 13.8 points and 3.9 assists per game… Da Silva ranks second on the team with 10.7 points per contest but leads USF with 8.3 rebounds per game.
• Head Coach Orlando Antigua is in his third season at USF and as a collegiate head coach. • 1995 graduate of Pittsburgh.