Agree, but he may run into trademark/copyright, and may end up costing $40 for a t-shirt

It is, which is hilarious.
Yes, I like that shirt too. I ordered one along with the locker room shirt, locker room hat, and then a red hat that says like Indianapolis and such on the front around out logo. Right now though, thinking I didn't really need the red hat but I was caught up in excitement.
I ordered the red Final Four T from Galen's shop, but when it arrived, instead of saying Final Four below Houston, it says For The City. I can't find anything anywhere about how to contact them to get it fixed. All I get is podcasts, articles in paper, facebook, etc. Does anyone know where or how to contact them? Surely they have a phone. There was no paperwork in the bag either.
He had to change it because of the trademark. He announced the change on his twitter on Thursday/Friday of last week.
I didn't even know about the changes due to trademark, I remember talking to others about our logo and much on the t-shirt.
I saw his t-shirts on Twitter, you can try to contact him on there.
He had a message box on his order app and I left message, and he called me back. Said to keep the shirt and he will refund my money. I thought about it a second and called him back to tell him to forget it, if I'm keeping the shirt, I want to pay for it. My call went to message and then he called me back again.
I told him since I'm keeping the shirt, I want to pay for it so don't bother with refund. He said, too late, he already refunded it, and it's on the house. I think I will just send a check to the address it was shipped from.
Meet behind Agnes Arnold and settle it like men.
I know it doesn't help out of towners, but they got all the good stuff at the store in the University Center.
I just scooped this awesome shirt and pin… Only 4 pins left in stock… I'm a sucker for pins… And Coog t-shirts… Lol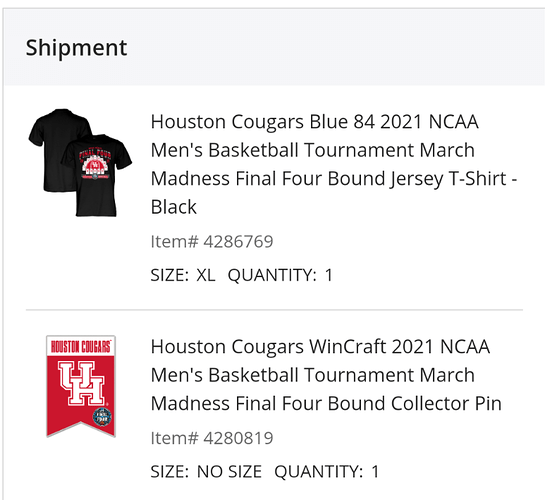 I ordered the shirt from Fanatics the day after the Coogs made the final 4. Should be delivered next week …
I ordered within 30 minutes of the end of that game. I will learn next time, I should wait and get over to the store because it is a pretty ridiculous wait time. I am going to go back and get a pennant, maybe some stickers and such too.
Where do I get the 2022 Final Four gear?