Fun fact: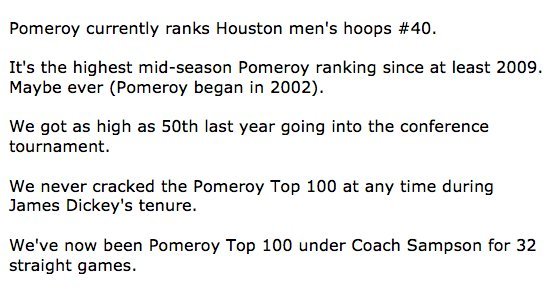 Great time to be a Cougar basketball fan.
Good things are really starting to fall in place. I can't wait for everyone else to figure it out and jump on board.
Some morons would have you believe CKS should be fired. Some cougar fans believe the basketball program should be held to the same standard as the football program.
I think CKS has done a great job thus far, especially when considering where this program was when he took over.
The Harvard loss was disappointing for sure. That loss was not the end of the world.
From the moment I saw the schedule I knew we were going to have to win the conference tourney to get to the dance. Hopefully our guards catch fire at the right time.
I will say, up to this point in the season, they definitely look more like a tourney team than not.
If we had one solid big that could own the post, I think we'd be mentioned as one of those very dangerous dark horse teams and would be a tournament shoo-in.
Jarrett Allen screwed us and himself!
If anyone has suggested Sampson be fired, that is absolutely assanine…
This has been a fun team to follow. I'm glad to see the late starts for the next two games. 1. It's convenient for me. 2. I'll be able to meet up with a handful of friends for Saturday's game against Cincinnati. I'd prefer they all come for Wednesday's game against Tulsa but I'll take what I can get.
Massey Composite has us at #49 - Cincy #21, SMU #27, UCF #58, Temple #70, Memphis #72
RPI - Houston #67, Cincy #24, SMU #32, Temple #36, UCF #60,