Comeback Coogs strike again. Should be playing Northeastern right now
http://www.uhcougars.com/sports/w-baskbl/recaps/112417aaa.html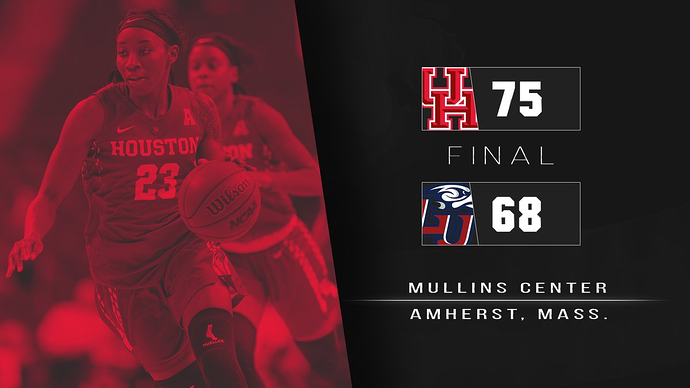 TOP PERFORMERS
Houston: Angela Harris led all scorers in the contest with a season-high 20 points, while Jasmyne Harris added 16 points in just 19 minutes of action. Serithia Hawkins put in 12 points en route to her 13th career double-double after leading all rebounders with 11 boards, while Octavia Barnes added 12 points and Dorian Branch finished with 11.
Liberty: The Lady Flames finished with three players in double-figures including a team-high 15 from KK Barbour. Kierra Johnson-Graham finished with 13 points, while Lela Sellers added 10. On the glass, Liberty was paced by Ola Makurat who pulled down seven rebounds.
NEWS AND NOTES
Houston continued to be a defensive threat, forcing 34 turnovers including 18 steals. The Cougars entered the contest second in the American Athletic Conference and 14th in the nation in total steals.
Serithia Hawkins had a big night on the glass for the Cougars en route to her 13th career double-double. Hawkins' 11 total rebounds gives her 508 for her career, making her just the 20th Cougar in school history to reach the 500-rebound plateau. Hawkins also pulled down seven boards on the offensive end, giving her 197 career offensive rebounds, moving her past Yasmeen Thompson (196; 2010-14) on the all-time Houston offensive rebound list.
Sophomore Angela Harris knocked down three 3-point field goals in the game, giving her 65 for her career and moving her into 17th on the all-time Houston 3-pointers made list.
Senior Mariah Mitchell had three 3-point field goal attempts in the contest, moving her to No. 10 all-time on the Houston list for the category and passing Porsche Landry (270; 2008-13) with 273.
Sophomore Quatera Limbrick checked into the game late in the second quarter to make her season debut. Limbrick's action was the first for her since an injury ended her freshman year just nine games into the 2016-17 season…
Houston outscored Liberty 36-16 on points off turnovers, 14-7 on second chance points and 10-6 on the fast break.