These are the ones I saw on Twitter:
http://www.uhcougars.com/sports/m-baskbl/spec-rel/041217aaa.html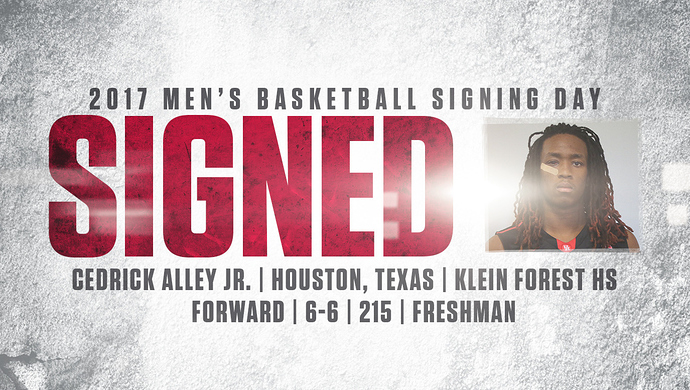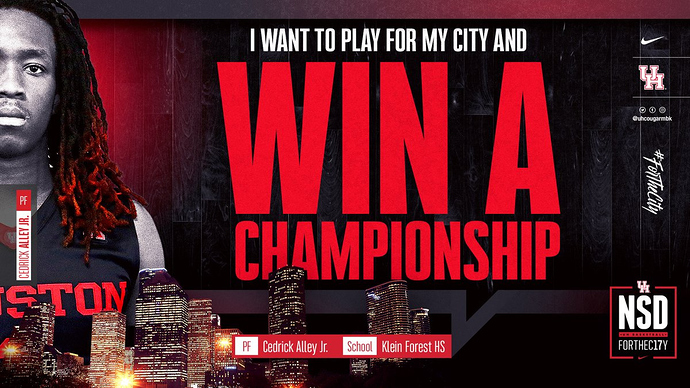 "I am excited when I think of what Cedrick is going to be. He is not a 1 or a 2 or a 3 or a 4 or a 5. Cedrick is just a basketball player. Cedrick shoots when he should shoot, and he passes when he should pass. That tells me he knows how to play," Sampson said "When we recruit in Houston, we have to get the right Houston player. That means someone who fits our culture and is a winner. Cedrick fits all those boxes."
This is how the UH basketball roster is shaping up going towards the 2017-18 season. Is not a depth chart:
Centers - Breaon Brady 6'9 235, Valentine Sangoyomi 6'10 250 & Chris Harris 6'10 250
Power Forwards - Devin Davis 6'7 230, Nura Zanna 6'7 240 & Fabian White 6'8 220
Small Forwards - Gabe Grant 6'6 225, Cedrick Alley 6'6 215 & Michael Adewunmi 6'6 190
Shooting Guards - Rob Gray 6'2 185, Armoni Brooks 6'5 190 & Wes Van Beck 6'2 190
Point Guards - Corey Davis 6'2 185, Galen Robinson 6'1 190
As you can see by the roster, UH will have a couple of guards graduating soon, and others will be Seniors. That's why, CKS has made guard, a priority in recruiting in 2018.
If Chris Harris does come in as a Walk-on for a year, and then gets put on scholarship next year, that will give UH 3 available scholarship spots for 2018-19 season. (Don't know how that situation will workout) Which will also be the first year playing at Fertitta Center. We all know Chris Harris is not a walk-on talent, he is a rim protecting, rebounding talent, who can also catch the lob pass for a dunk.
I expect coach Sampson to sign somewhere around 2-3 players in the Fall. Possibly, 2 guards & a forward. I think CKS ideal scenario would be…
Nigel Hawkins pg out of (Cy Falls) Houston, Texas
Jamal Bieniemy sg out of (Tompkins) Katy, Texas
One out of the talented fowards in Texas
Hard to believe that we may be a better team in spite of losing Dotson?
If you look at last year's roster, it appears we had just 3 guys (Devin & Kyle & Bert) who were heavier than 210 lbs. That's why we got pushed around inside.
Based on the above post, next season we'll have 8 guys heavier than 210 lbs. That's a dramatic beefing up of our roster. [Adding: Breaon, Valentine, Chris, Nura, Fabian, Gabe & Cedric - Losing Kyle & Bert]
Someone needs to teach Cedric how to smile.
And a lot more length too. That should make us more disruptive on defense (in the passing lanes and protecting the paint) and not as susceptible to having shots blocked in the paint. On paper (yes, I realize it's just on paper), this roster looks infinitely better than last year's roster even with the loss of Dotson. From what I'm hearing about Cedric Alley, he should be a serviceable replacement for Dotson right away. I don't know much about Grant and Adequnmi but I like the size. We can't possibly be worse at the 5 than last year. The 5 spot was such an achilles heel for us.
If it was Gray, then I would understand. He was clearly UH's best player. Dotson was so-so when the competition got better. Alas (Arkansas, LSU)
LSU was "better" competition? The whole team shut down that game, not just Dot…but LSU was a bad team. Easily our worst loss of the year.
Dot did not shine at the end like we hoped. Did he run out of gas? Did teams hone in on him because he had been getting progressively better near the end of the season? Who knows, but I'd consider him a bigger hole to fill if Gray ends up leaving as well?
Gray has already stated that he is staying and looking forward to next year. I think it is a smart move on his part. He gets a little stronger and will have a better team it looks like around him. As far as talent, Gray would be missed much more than Dotson and I am not taking anything away from Dotson. Shot well and rebounded well for his height. But Gray does both while at the same time penetrating the lane better than most anyone I have seen. In my mind here is the main difference between the two. Dotson is a great shooter. Gray is a great scorer.
UH is going to be a more complete & talented team, with more beef and toughness next season. Dotson was good, but the team he was on this past season wasn't deep, and were small. No question next year's team will be significant better.
We won 21 with last year's roster. You would have to think with this year's upgrades we can add 2-4 more wins. Hopefully that's enough to put us in the tourney. Exciting times to be a Coog hoops fan. Finally.
Men's Basketball Signing Day Central

Man, really digging this class. We've got some special talent coming in that will make an immediate impact.
http://www.uhcougars.com/sports/m-baskbl/spec-rel/041317aab.html

Davis, who stands 6-foot-2 and weighs 190 pounds, will play as a junior and have two years of eligibility beginning in 2017-18. He chose Houston over Arizona, Oklahoma State, New Mexico State and LSU.
"We saw Corey early in the process and tracked his progress. Every time I saw him play, Corey showed me something else," Sampson said. "He shoots like a 2-guard and plays like a point. Corey is a prototypical combo with a high basketball IQ and the ability to score consistently. He will come in and make us better and impact us right away."
I was kind of surprised when Corey decided to join our Coogs, but he helps complete a really nice class. I think Davis pushes Robinson for a starting berth right off the bat…we should have much better depth than last year, not to mention some beef that will not get pushed around under the hoop…
Also, keep an eye on Jaedon Ledee. 6'8 210 Sf/Pf out of Houston, Texas. He could be a nice stretch 4 under CKS. He is seriously looking at Houston. Not saying he will sign with UH, but he is considering UH.