http://www.uhcougars.com/sports/w-baskbl/spec-rel/120417aaa.html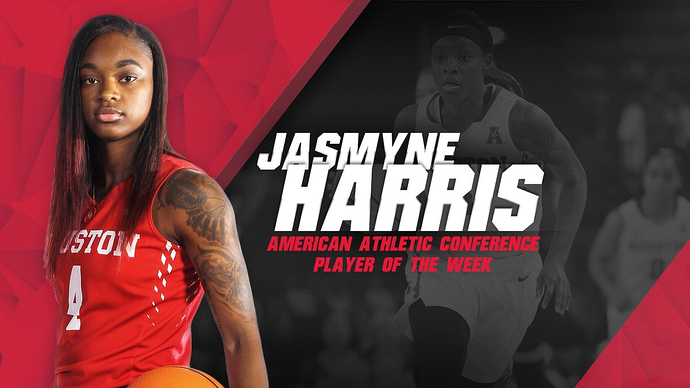 Harris opened the week at Texas State, with a 32-point, 11-rebound double-double, marking Houston's first 30-point scoring night since Porsche Landry scored 30 on Jan. 6, 2013. The 32-points was the most for a Cougar since Dec. 5, 2009, when Brittney Scott also scored 32 against North Texas. Harris shot 75 percent (12-of-16) from the field in the contest and added seven free throws, while also tallying a career-best four blocks.
Two nights later, Harris played a key role in Houston's thrilling second-half comeback at UT Arlington, on Dec. 1. Harris again scored in double-figures, scoring a game-high 16 points while pulling down five rebounds, assisting on four baskets and coming away with three steals in the 62-58 win.
Harris had a more balanced night against Texas Tech, in helping the Cougars wrap their perfect 3-0 week. The Freeport, Texas, native just missed double-figures with nine points, while also tying for the team lead with seven rebounds and assisting on a career-best seven baskets.