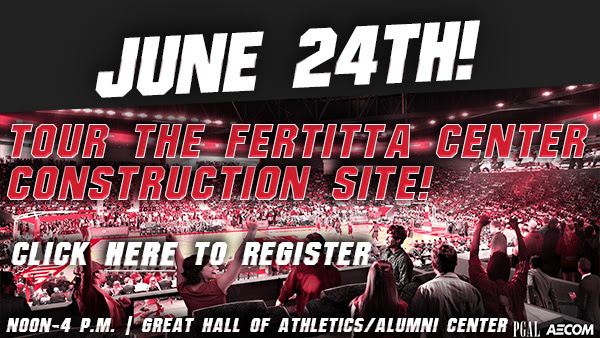 http://www.uhcougars.com/facilities/fertitta-center-tour.html
Fertitta Center tour attendees must check-in 15 minutes prior to their assigned tour time in Great Hall of the Athletics/Alumni Center. Complimentary parking will be available in lot 16B located on the corner of Cullen Blvd and Elgin St.
Each tour is restricted to a maximum of 26 attendees. As such, each attendee is allowed to bring only one (1) guest and if the requested tour time has reached capacity, a Cougar Pride representative will contact you to reschedule.
Please note, despite the potential inactivity on Sunday of this tour, this is a live construction site. All site regulations will apply.
Due to safety regulations in the live construction zone, the following regulations must be followed:
All tour guests must be 18 years or older
All tour guests must wear closed toe shoes
All tour guests must wear full length pants
Please note that if these safety rules are not followed, you will not be able to take part in the tour.
Attendees must stay within the non-restricted areas with tour guides present at all times. Any violations may cause removal from work site.
Due to the active construction site, ADA accommodations are not available at this time. ADA accommodations will be available in the Fertitta Center, but have not been completed at this date. Thank you for your understanding.
For more information regarding the Fertitta Center Seat Selection Process and available seating options, please click HERE. Please call Cougar Pride at 713-743-GoUH (4684) if you have any questions.