Ahhhh…it says in his twitter handle::: malex fuget
Malex Fugit 6'0" 330, played DT #73.
Not to be nitpicky but the only place I see him ranked 3 stars is on his own twitter profile. Not to say he isn't worthy of 3 stars, it's just he hasn't even been rated by the services I check out. Anybody else have better luck?
Im not finding any stars on him.
If he's 330, can we teach him to play OL?
On his highlight film he was playing both ways.
There was one clip on his film in which he not only pancaked a cornerback but knocked his helmet off. I know its a cornerback, but he knocked his helmet off!!
We need an offensive linemen strong enough to move a defensive linemen. That's all I'm asking for. We'll never be able to run the ball up the middle or off tackle until we're able to dislodge and move defensive linemen.
His film does not lie. He is more effective as an O-Line. I'm pretty sure we will use him on the O-Line. Has damn good feet to be 320+ pounds!
welcome to the program young Captain!
2 more Preferred walk-on offers:
https://twitter.com/1KFRANCO/status/818487692279353344
FS/OLB (moved from WR) out of Cedar Hill: http://247sports.com/player/king-ekejija-67134
HUDL: http://www.hudl.com/profile/6808594/king-ekejija
---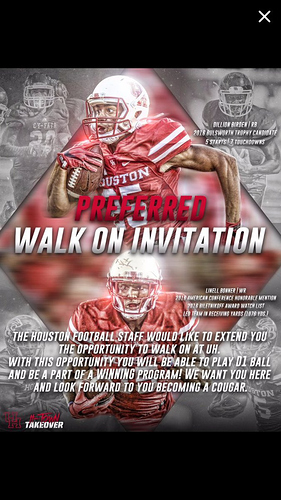 DT out of Klein Oak High School / HUDL: http://www.hudl.com/profile/3104326/dalton-gumina
Gumina is an impressive walkon
I like these kinds of kids.
Kids who play with a chip on their shoulder!