#17 West Virginia at Ok State tonight 8 PM ESPN2
Ok State has two losses: by 3 @ UT and by 1 vs. TCU. They won @ Texas Tech by 5 on Saturday. I like Ok State in this one.
Also, interesting stretch of games for UCF starting tonight with Memphis:


And tough stretch for Tulsa as well. Glad UH gets them after Memphis and before Tulane but sad to see that Tulsa @ UH rematch is slated for The Plus: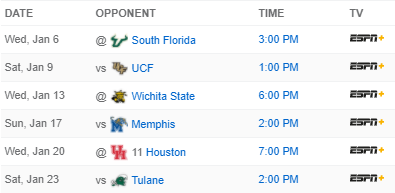 Gonna get you to place bets for me.
Ok state killing WV. I didn't see that coming.
West Virginia just had their leading scorer and rebounder from last year step away from the team and enter the portal
WVU pulled off a big win over Okie St 87-84. Very entertaining game.
I turned it off to go make dinner with 12 minutes left, OkSt up by 17. That's crazy.
Shocking to see how bad the big names are this season - North Carolina, Duke, Kentucky, and Kansas. Probably only Kansas makes to NCAA this year.
I wonder how much not having a real home court advantage and crowds influencing calls is impacting this.
Marquette (who is subpar) is KILLING UConn… this was supposed to be uconn breakout year
UConn had a covid shutdown recently if I remember correctly.
UConn just took the lead😳
Mizzou was beating up MissSt first half. MissSt beating up Mizzou now.
Just noticed Memphis vs. UCF was postponed. I missed that update.
marquette somehow blows a 18pt second half lead to loss by almost double digits
College basketball you just never know, that game sounds like the WVU vs OkSt. game!
Final score suggests it still is. (Well at least breakout in the sense that they should be on the right side of the bubble)
Tulsa at USF line was even right before game time but Tulsa seems to be handling USF fairly easily. Tulsa got off to a great start before letting USF back in. Tulsa up by 2 at the break, but then starts the 2nd off with a 9-0 run. I'm not watching; just following the score. So maybe it's more even than the score appears.
Up 10 with less than a minute left so Tulsa will take this one. Commentators said Tulsa is undefeated at USF's place.
I just caught a couple of minutes of the game – I let work interfere with my priorities I guess.
Arky up on #9 Vols at half. It'll help if Hogs pull this one out.
#21 Duke and Boston college in a close one 75 all. 1:43 left to play. On ACC network.
Side note: the camera angle is horrible