Our top RBs have these stats through 4 games: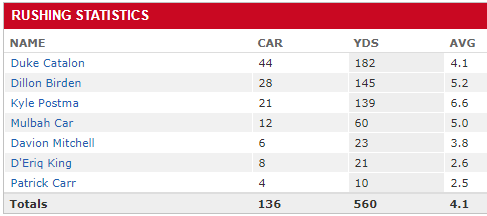 In fact, for all our desire to have King involved more, most of his running plays get stuffed. His first couple of touches on the ground usually net pretty good, after that, opposing D's are tracking him every play.
Also, from the stats, it looks like the problem with the run game is we don't run ENOUGH not that we're not good at it. I've been critical of the O-line's run blocking as have many others but the fact of the matter is we break off enough long runs of 10+ yards to justify continuing to run. We can't stop running because we got stuffed on a series. Play calling, of course, is very important to a successful run game and there seems to be room for improvement.
The back sometimes misses the seem or 'hole' as it was called in my day. As a former RB, i can tell you that it's harder than you think and good field vision is a gift from God and not something you can teach a guy. But, you can identify who has it and we need to recruit those kids. Craig Williams from Crosby, who's lightening fast also has excellent field vision. He's currently committed elsewhere but it's guys like him that we need.