A few people seem to believe that our stagnant offense seems to be on the shoulders of one individual. There are many of variables that affect play outcome (the latter portion of play-calling). In this instance, let's focus on the offensive line and how it relates to scheme. Some times it works, sometimes it doesn't. You should also understand that we run a power-spread and that requires zone-blocking to be successful (yes, we have a run first system). No need to get into details on alignment, the focus will be on the blocking of the offensive line. Here's just a few instances (other games bring back too much hurt i.e.Tulsa, Tulane, Memphis), but you're more than welcome to add to it.
SMU
1a. 2 backers in the middle of the field are free, before the snap. We have 5 linemen and an in-line TE on the left side. They have 4 down linemen. We have a numbers advantage on the line, to start.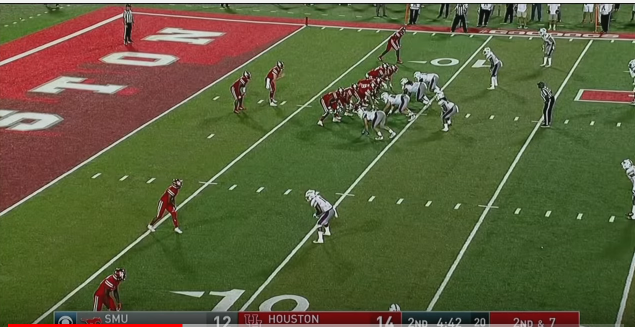 1b. This looks like a Trap play and the guard pulls to pick up our outside man. Little do they know is the LG is getting rather skinny and going to pick up the other backer.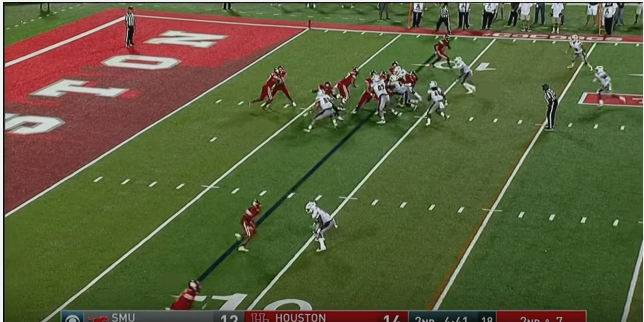 1c. Boom! We have a hat on a hat. Both linemen are making second level blocks, and here comes Catalon.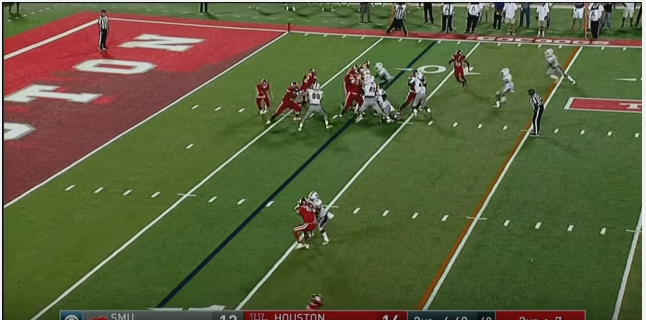 1d. We now need the reciever to make his block. He does, and by design, Catalon has one man to beat.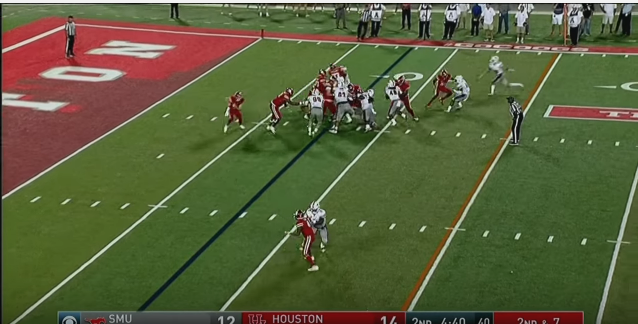 1e. Catalon is gone; tackled at the other end of the field.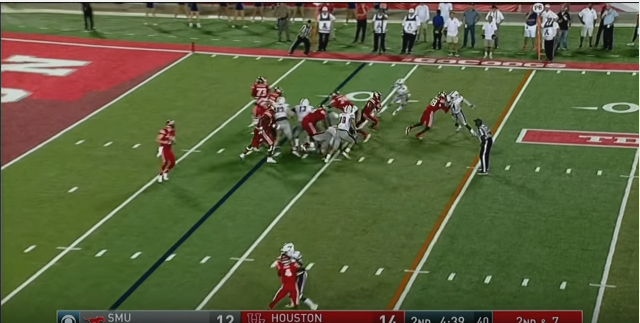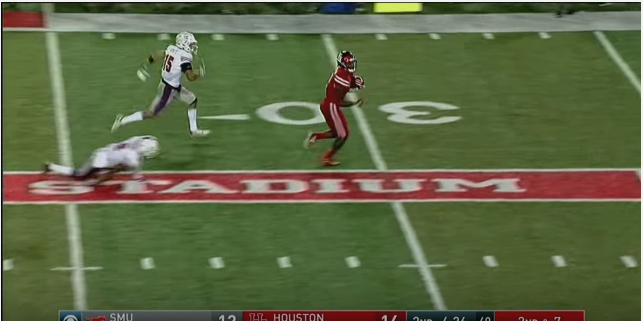 2a. This is a play were they don't execute the zone blocks ,and second level players are running free. It's a good thing the defense was in zone (maybe the OC anticipated they would be), because Catalon has to find a way to make a million people miss.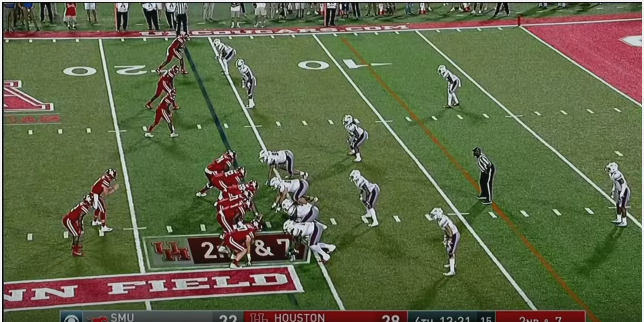 2b. Not sure if this was a counter and linemen forgot to pull or Catalon decided to cut-back. The in-line TE gives the DE a clean lane and picks up CB.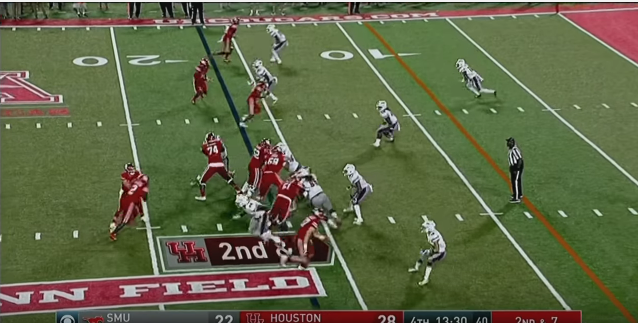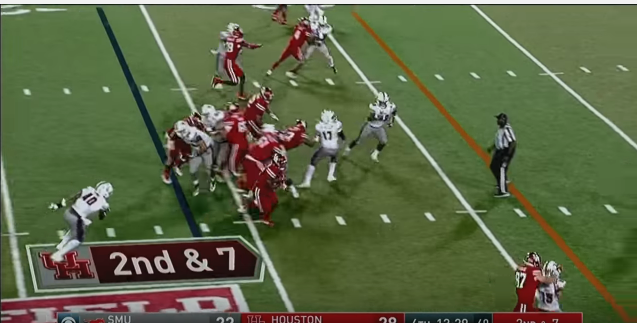 2c. There are lot of white helmets around Duke, given the blocking scheme. He has to really work for this score. The appropriate blocking scheme would make it easier (see example 1.)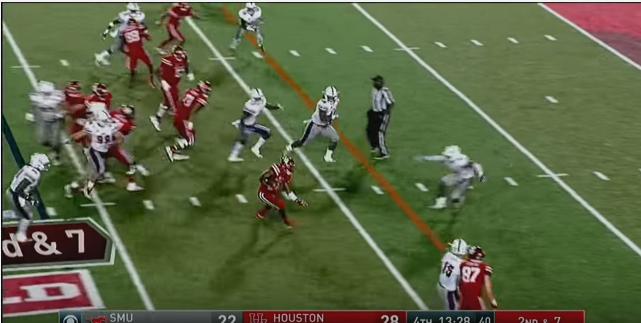 2d. Somehow he scores. lol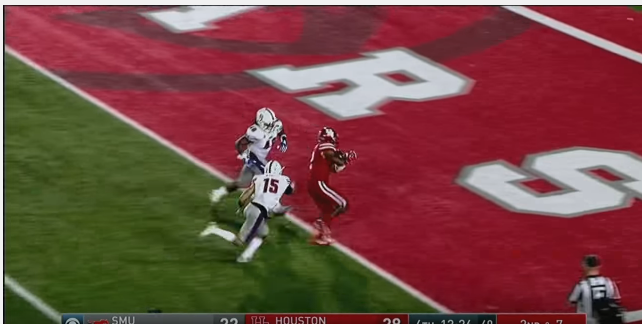 Navy
1a. TE motions to pick up a defender.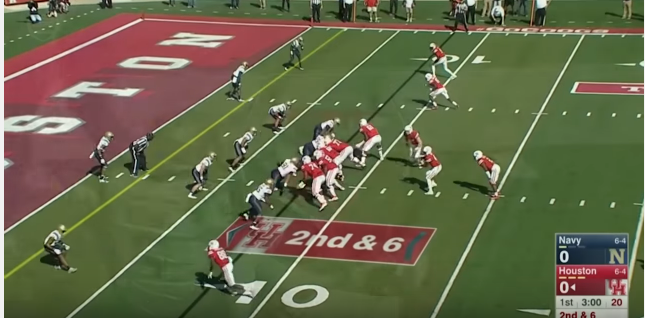 1b. TE keeps going and leaves LB's free.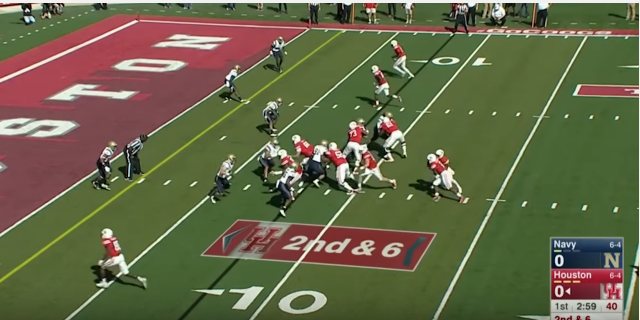 1c. The TE,LT, and C allow their respective men free.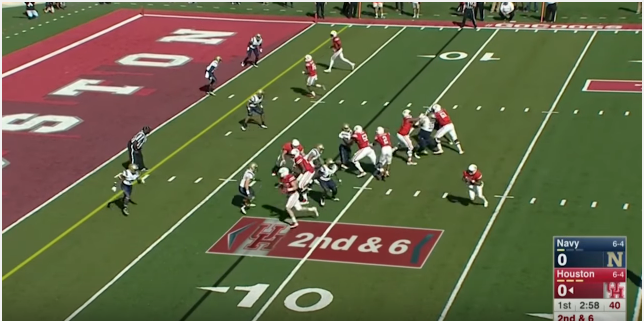 1d. King has to scramble and is faking as if it was pass, in order to confuse defenders for a running lane. They know that TE's can't block while the ball is in the air so it was a clear option play.

1e. It's obvious what will happen at this point when linebackers are left unblocked. King goes down.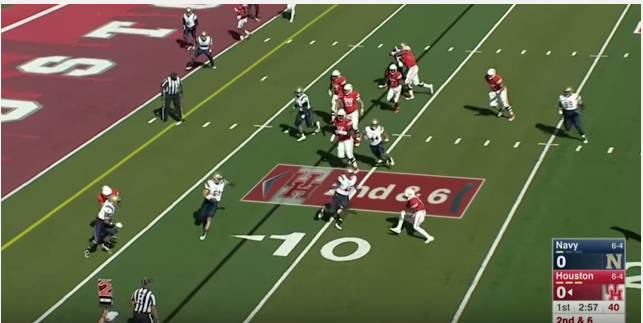 2a. late in the 3rd, obvious running play on 2nd and goal.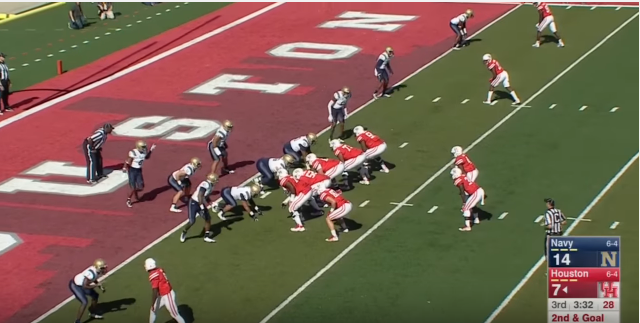 2b. The ball is snapped and pad level is huge here; Navy has the O-Line almost laying down.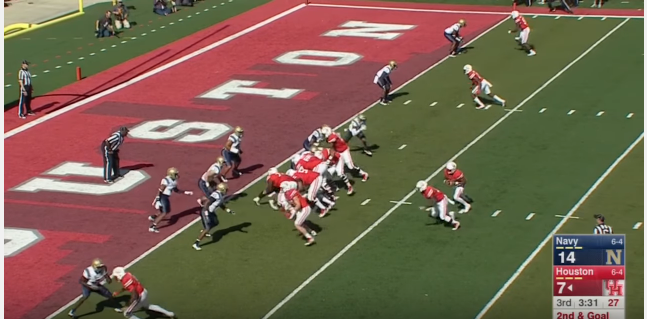 2c. Josh Jones saves the day as he recovers and gets to the second level.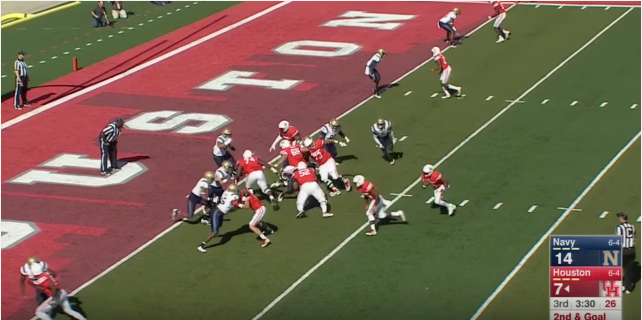 2d. Jones slows down the last person who could make a play on King.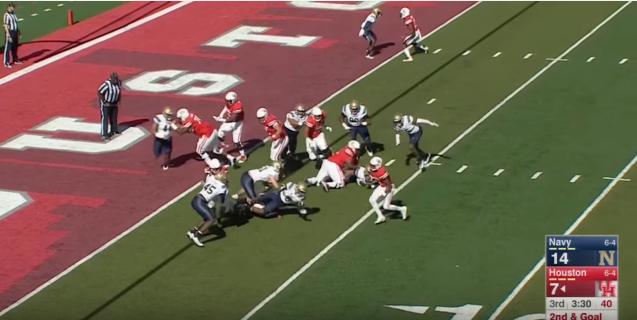 2e. Though the result was a touchdown, you want JJ to drive the defender out of the back of the end zone because he's still able to go at King. Understanding context, imagine if this play was ran at midfield. It would have been considered a "bad"play, given one missed block.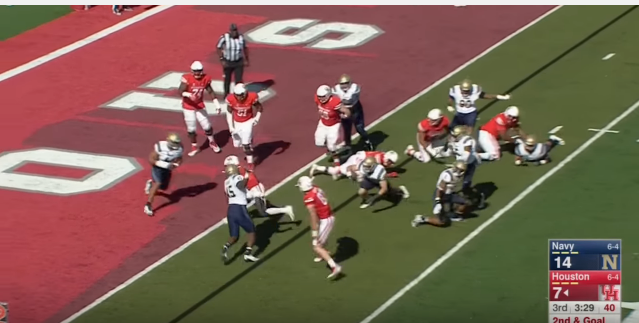 USF
1a.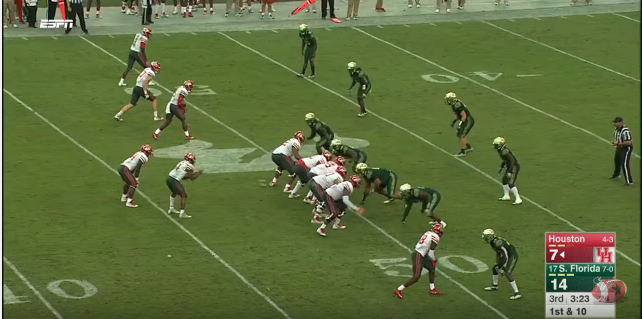 1b. What's interesting about this play is, schematically you knew you would have a free man if the guard moves up to the second level. Why not motion the TE back into the H to pick him up? The G goes for the LB, leaving a man free.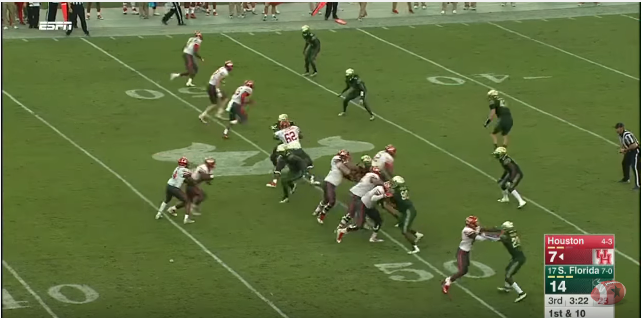 1c. Car is lucky to have made the free defender miss. Both Guards get up field and save the play.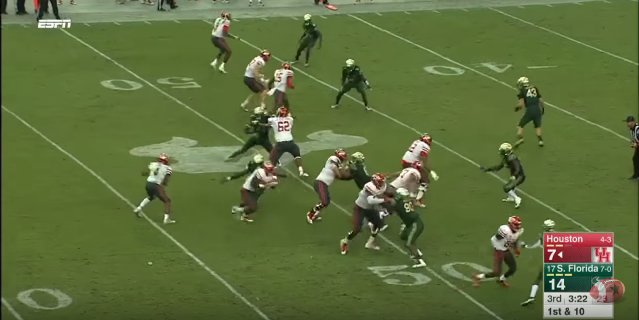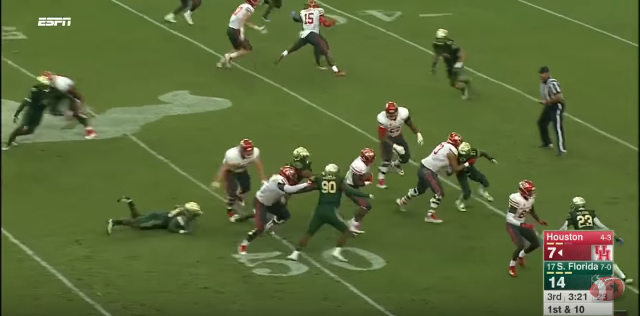 1d. Rogers is just running up the field looking for someone to pancake at this point.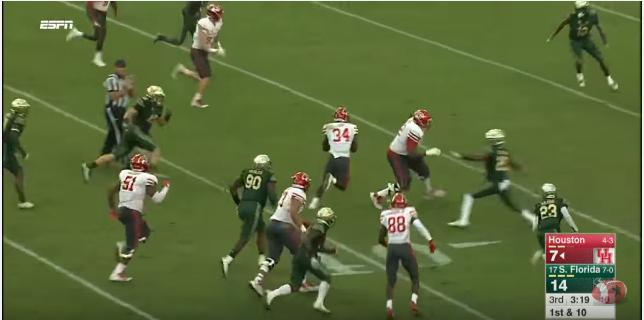 1e. Car is taken down, way down field.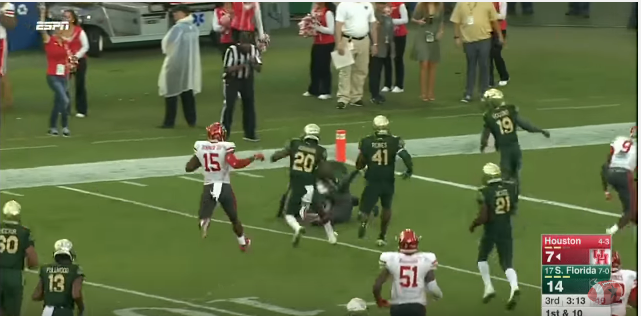 We are at our best when we can zone block. I have yet to find a chunk running play without this type of blocking. If the running game starts to sputter, the previously mentioned issues most likely will be the cause.
Go Coogs!