San Antonio native Rita Buck-Crockett to be inducted into Texas Sports Hall of Fame
http://www.mysanantonio.com/sports/article/San-Antonio-native-Rita-Buck-Crockett-to-be-10615775.php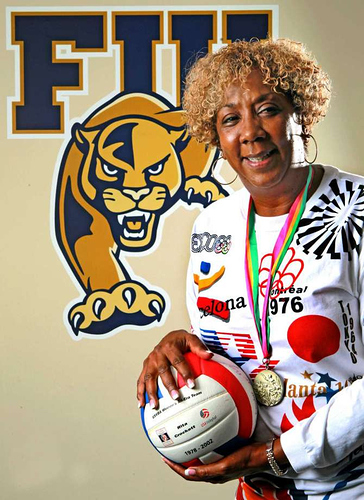 RITA BUCK-CROCKETT
San Antonio, TX native. Attended Marshall High School. Considered one of the best all-around volleyball players in history, Crockett played collegiately for the University of Houston. A 1977 AIAW All-American, selected to the 1980 and 1984 U.S. Olympic teams, Rita was a key member of the silver-winning '84 team – still tied for the best indoor finish in U.S. Olympic history. Outside of the U.S. program, Rita played professional volleyball in Japan, Italy and Switzerland. Rita returned to the United States to play in the new Major League Volleyball league from 1986-87, earning the league's MVP in 1987. In 1989, she teamed with Volleyball Hall of Famer Jackie Silva to win the World Beach Volleyball Championship to become the first African-American woman to earn the title. Rita's indoor career continued in Italy with Matera and Rome from 1988 to 1993 – earning the MVP of the Italian League in 1991. After her playing career ended in 1998, Rita continued to coach back in the U.S., serving as the head coach at Iowa from 1998 to 2004 before taking on the associate head volleyball coach role at Florida State in 2004 to 2005. Crockett is currently the volleyball Head Coach and Assistant Athletic Director at Florida International University.
FLO HYMAN (deceased)
A Los Angeles, CA native, Hyman was the first female scholarship athlete at University of Houston, where she was a three-time volleyball All-American, leading the Cougars to two Top-5 national finishes. She skipped her final year to join the U.S. National Team in 1975. After failing to qualify for the '76 Olympics and confronted with the boycott in 1980, Hyman led the U.S. to a silver medal in 1984. At 6-5, she was the tallest outside hitter in the women's game, and her 110-mph spike was a feared – and revered – weapon. Hyman was consistently counted among the top players in the world before her death during a 1986 match in Japan, where she played professionally.
WADE PHILLIPS
An Orange, TX native, Phillips attended PNG High School before playing collegiate football at the University of Houston, where he was a three-year starter as a linebacker. The son of storied former NFL head coach Bum Phillips, Wade began his professional coaching career with the Houston Oilers under his dad. Since then, Phillips has held multiple NFL positions, including head coaching stints with the Denver Broncos, Buffalo Bills and Dallas Cowboys. Phillips added to his legacy by being named the 2015 NFL Assistant Coach of Year and orchestrating a phenomenal defensive performance in Super Bowl 50 that led to a Broncos victory. Phillips met his wife Laurie at PNG in 1964, where she was the head cheerleader and he was the starting QB.