Cougars Open 2016-17 at Reveille Invitational
Men's indoor conference title defense begins in College Station
http://www.uhcougars.com/sports/c-track/spec-rel/120916aaa.html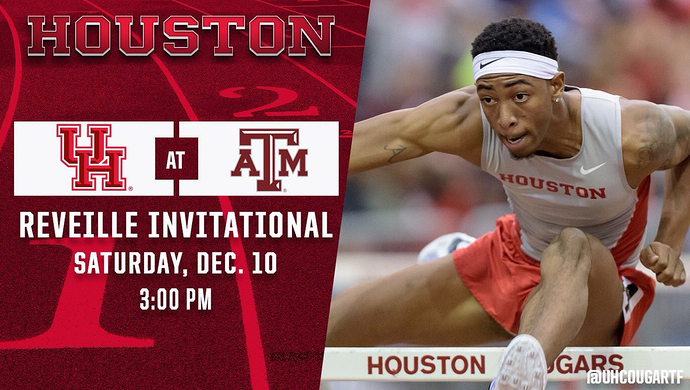 ABOUT THE REVEILLE INVITATIONAL
Where: Gilliam Indoor Track Stadium | College Station, Texas | Dec. 10 | 3 p.m.
Teams Competing: Houston, Texas A&M and TCU | Meet Information
WHAT TO WATCH FOR
The Cougars are expected to have 15 freshmen make their NCAA debuts at the Reveille Invitational, including IAAF World U20 Championship qualifiers Samiyah Samuels, Nathaniel Mechler, Anna Larsson and Klara Mattsson.
On the flip side, five seniors are scheduled to compete in the first meet of their final season, including thrower Damon Thompson. The school record holder in the men's weight throw, Thompson enters the event with a personal-best throw of 62-8 (19.10m).
Two-time American Athletic Conference Champion Amere Lattin is scheduled to return to the track in the 60-meter hurdles, while senior distance runner Brian Barraza is slated to make his return to action after redshirting during the cross country season.