That's ok because Villarreal gets another shot.
Cincy up 8-4 on UCF in the 8th. Good news, because Villareal can't get an out.
8-5 Cincy, B8. You can watch with an All-Access subscription.
3-6-1 DP to get out of trouble only giving up 2 runs. Pretty good considering the start.
2-1 Tulane after 1.
HR Slaughter. 2-2.
Going to the 9th in Cincy, Cincy still up 8-5.
Cincy wins! If we can win today, 2 out of 3 next week against Cincy would probably get us the title outright, since I highly doubt UCF or USF will sweep the other.
Not looking good. Villareal gets yanked for Hurdman, who promptly gives up a 2-run bomb. 5-2 Tulane.
Cumbie, Ullom, and Fletcher seem to be our only reliable arms right now.
Can't disagree with this. Scary with the tourney right around the corner.
Coogs get one back in the 7th. 9-4 Tulane.
King on to pitch in the 8th. Good sign.
Gives up 2 runs, but at least he's alive. 11-4 Tulane going to the 9th
Are there tiebreakers? If we end up with the same record as UCF or USF, are we Co-Champs or do they win outright because they each won their series over us?
Kind of surprising it was never released why King missed all those starts.
Regardless I think today shows how weak this staff is. We have four touted freshmen who simply have not answered the call. Combine that with losing two key starters down the stretch and it is easy to see why this staff is great need of help.
Maybe his performance against Rice helps get Henry on track, and Villarreal hasn't been awful, just inconsistent. But neither is ready for the limelight at this point…
Ball game - Coogs lose 11-4
Got the series and leave tied for 1st. Stop off at McNeese on Tuesday before finishing the season with Cincy at home starting Thursday.
I think we would be co champs with UCF with them getting the top seed because they won our series. But I could be wrong…
We lose the tiebreaker with both Florida teams due to going 1-2 against both.
Edit: didn't see the original question; your right, we would be co-champs, just seeded lower.
Think Whitting said it was an ankle thing with King.
Edit: disregard, it was scar tissue in his elbow:
http://www.uhcougars.com/sports/m-basebl/recaps/051417aaa.html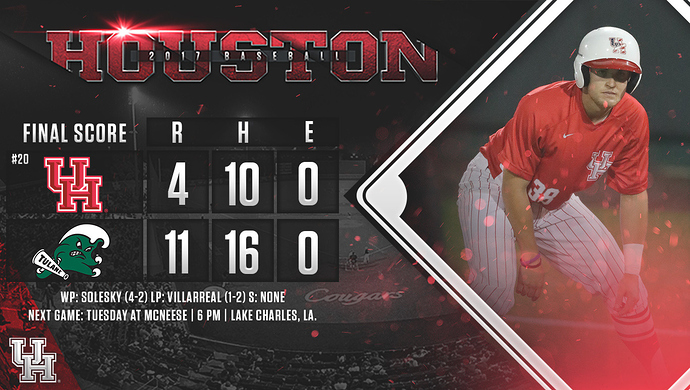 HOUSTON NOTES
Houston has won nine weekend series, five of which have come in conference play, including this series at Tulane after winning, 15-3 in Game 1 and 4-0 in Game 2.
The Cougars are 4-2 against Tulane this season.
Corey Julks has reached base in 13 straight games and Joe Davis in 11 straight.
Nick Slaughter hit his second home run of his career – a solo shot – in the second to tie the game at 2-2. He finished the day, 3-for-4 with a run and RBI.
Top Offensive Players
Nick Slaughter | 3x4, R, RBI, HR (2)
Joe Davis | 2x5, RBI
Connor Wong | 1x5, 2 R, SB (21)
Corey Julks | 1x3, RBI, BB, SB (13)
Grayson Padgett | 1x2, R
Houston tallied 10 hits on the day, led by Slaughter's three-hit day. He belted his second career home run. Joe Davis had a two-hit day with an RBI, while Corey Julks continued his hitting tear with another base hit and RBI.
Pitching Breakdown:
Fred Villarreal | 2.0 IP, 6 H, 4 R, 2 BB, 1 K
Brayson Hurdsman | 0.2 IP, 2 H, 2 R, 0 BB, 0 K
Joey Pulido | 3.0 IP, 4 H, 3 R, 3 BB, 6 K
Nolan Bond | 1.1 IP, 0 H, 0 R, 1 BB, 1 K
John King | 1.0 IP, 3 H, 2 R, 0 BB, 0 K
Freshman starter Fred Villarreal made his third career start and surrendered four runs on six hits with two walks and one strike in 2.0 innings of work. He handed the ball over to fellow freshman Brayson Hurdsman in the third as the southpaw allowed two hits, a two-run home run before handing the ball over to junior Joey Pulido with two outs.
Pulido finished his outing, striking out six and walking three, while surrendering three runs on four hits in 3.0 innings out of the bullpen.
Nolan Bond took over with bases loaded in the sixth and managed to strike out the only hitter he faced that frame. He returned and wrapped up his day, tossing 1.1 innings, walking one and striking out one.
John King took over in the bottom of the eighth, allowing two runs on three hits.
Villarreal would suffer the loss, falling to 1-2 on the year.