http://www.uhcougars.com/sports/m-basebl/spec-rel/030217aac.html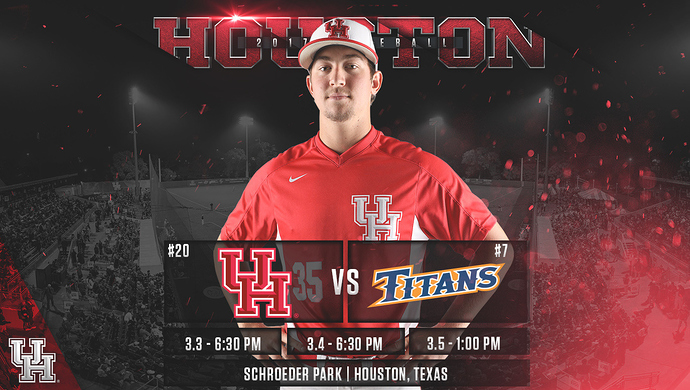 QUICK HITS ON CAL STATE FULLERTON
Cal State Fullerton is 4-3 on the year and has won series vs. Stanford and UNLV.
The Titans are ranked in every national poll and as high as No. 7 by Baseball America.
CSF is hitting .220 as a team with 52 hits, 17 doubles, two home runs and 28 RBI, while slugging .326.
Taylor Bryant's .458 average, 11 hits and eight RBI lead the Titans offensively.
The pitching staff is one of the best in the nation, owning a 1.97 ERA with 54 strikeouts to just 13 walks in 64.0 innings this season.
RHP Connor Seabold is 1-1 with a 2.77 ERA and has nine strikeouts in 13.0 innings as CSF's Friday starter.
RHP John Gavin is 2-0 with a 0.68 ERA in two starts and is slated to throw on Sunday.
SERIES HISTORY VS. CAL STATE FULLERTON
Cal State Fullerton and Houston have met 11 previous times.
The Titans own a 9-2 overall record over the Cougars since 1982.
Houston and Cal State Fullerton last met in a three-game series at Cougar Field, Feb. 20-22, 2004.
Last Meeting: Feb. 22, 2004 | Cougar Field, Houston | Houston lost, 4-9
http://thedailycougar.com/2017/03/02/titans-cougars-pitching/
They will have to work to keep up this offensive explosion against a Titans team that is ranked No. 7 in the nation with a 1.97 ERA. Led by junior right hander Connor Seabold (1-1, 2.77 ERA), the Titan rotation features three of the most dynamic arms in baseball.
Together with Seabold sophomore right Colton Eastman (0-0, 2.00) and junior southpaw John Gavin (2-0, 0.67), the Titans represent the best one through three the Cougars are likely to see all season.
The series should be quite the pitcher's duel though as the Cougars rank slightly ahead of the Titans in almost every category. Ranked No. 4 in the NCAA with a 1.77 ERA, the Cougars are one of the few teams that can match the Titans arm-for-arm.
CTW says we'll be making the return trip to Fullerton next year. Not surprising, but good to hear it confirmed.
Continue with what's working; 3rd straight game with this lineup:
Wong C
Padgett CF
Davis 1B
Scheiner 2B
Lockhart RF
Triolo 3B
Bielamowicz DH
Etzel LF
Hollis SS
Romero P
Game delayed a bit due to video issues
Game tomorrow has been moved up to noon from 630 pm because they're expecting rain
Wow, video and audio are in good shape tonight on all-access.
Top 1st
A foulout and 2 Ks as Romero retires the side in order.
M1…No score
Bottom 1st
Wong walks
Padgett with a bunt single to third, Wong to Second
Davis singles to center…Wong scores, Padgett to 3rd…Coogs lead 1-0
Scheiner K's swinging for the 1st out
Lockhart sac fly to left scores Padgett…Coogs lead 2-0
Triolo lined out to Right after a long battle. Both Lockhart and Triolo battled.
T2…UH leads 2-0
Top 2nd
Groundout to 3rd and 2 more K's for Romero to retire the side
M2…UH leads 2-0
Bottom 2nd
Bielamowicz singles to center
Etzel singles to right center, Bielamowicz to 3rd and Etzel to 2nd on the throw
Hollis grounds out to 2nd, Bielamowicz scores, Etzel to 3rd…Coogs lead 3-0
Wong grounds out to 2nd, Etzel scores…Coogs lead 4-0
Padgett flies out to right
T3…UH leads 4-0
Top 3rd
Single, Double play, Walk, and K #5
M3…UH leads 4-0
Bottom 3rd
3 up, 3 down for the Coogs
T4…UH leads 4-0
Top 4th
Single, fantastic play in Right by Lockhart for the 1st out, groundout to Romero moving the runner to second and then a double to Left Center scores a run…Coogs lead 4-1
Flyout to left ends the inning.
Fullerton is starting to get around on Romero, need to keep scoring
M4…UH leads 4-1
Bottom 4th
Triolo homers to left, 2nd of the year…Coogs lead 5-1
Bielamowicz and Etzel K, Hollis Singles and Wong Ks
T5…UH leads 5-1
Top 5th
Single, Sac Bunt, Single and a double bring home 1 run…Coogs lead 5-2
Hard Ground out to Romero scores another run…Coogs lead 5-3
Romero gets his 6th K to end the inning
M5…UH leads 5-3