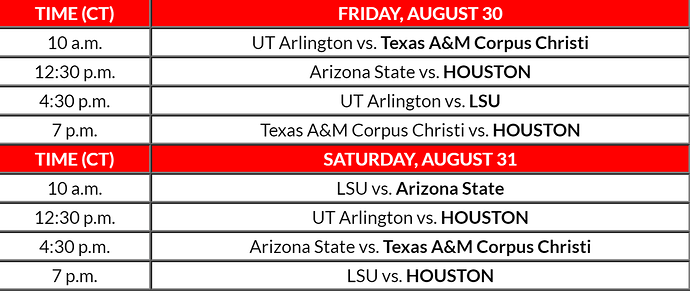 Live Stats for each game: Live Stats
Where to watch the UH matches: Watch
The Cougars (0-2) opened the day falling to the Sun Devils, 3-1 (23-25, 25-23, 16-25, 21-25) before dropping their contest with the Islanders, 3-0 (25-27, 18-25, 23-25).
Houston began the day falling to UT Arlington (2-1) in a five-set thriller 25-18, 25-18, 21-25, 22-25, 12-15). In the primetime matchup against LSU (2-1), the Cougars (0-4) dropped their contest with the Tigers, 3-1 (25-23, 16-25, 13-25, 15-25).
At the conclusion of the event, sophomore middle blocker Isabel Theut was named to the All-Tournament team. She finished the weekend with a steady .227 hitting percentage, averaging 2.5 kills per set.
I thought the volleyball team was supposed to be good this year. They got swept so far in their own tournament. Not a great way to open up play in Fertitta Center.
No, this was going to be a rebuilding year after the coaching change. Not a lot of experience on this team. Got some good young players, but they need to learn how to win.