We have to beat Alabama but God make it happen.
Bama will be our biggest test. Let's go beat the crap outta those boys.
At worst #1 vs #3 if UH beats Alabama.
Was Akeem vs Sampson 1 vs 2?
UCLA vs UH in '68 i believe.
They never played against each other
Sampson was out when we laid an egg against Virginia in Hawaii.
At Hofheinz, Sampson was a visiting fan in our game against UVa.
We ran him out of the arena right by the student section during the 1984 run.
Lol. Lets beat Alabama first.
Yep, Sampson was hurt when Phi Slama Jama lost to Virginia in Japan.
Could have sworn it was in Japan.
Could have been I was about 10 at the time
So after some digging, we have only played the #2 ranked team twice while being the #1 ranked team.
Elvin's 67-68 team lost the rematch with UCLA in the semis, and 82-83 Phi Slama Jama defeated the Louisville Doctors of Dunk in the semis.
But as the #2 team, we played against #1 team (UCLA) in the Astrodome 1968 . . . . .
So espn.com is still listing the game at UVA as being on ESPN2. I don't know how these things work, but if it works out to be #1 vs #2, wouldn't they want to put it on ESPN or ABC?
Well mid December, college football bowl games may be on ESPN or ABC. 2PM basketball game
We got bumped for the:
*Las Vegas Bowl
*LA Bowl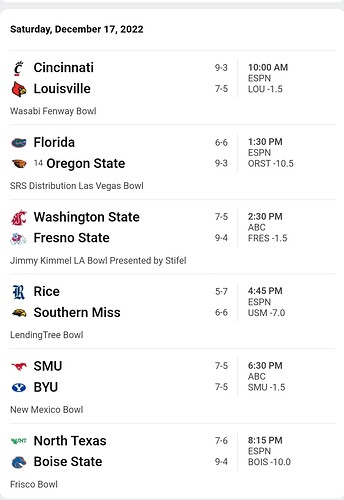 I agree with you. But since ESPN is in charge they'll value NFL, NBA and College Football over College Basketball unfortunately
Before we get too excited guys let's just hope Purdue doesn't pass up UVA after two nail biters against inferior teams at home this past week (Fla. St. & James Madison) btw James Madison got blown out by NC earlier in the season. Purdue plays on the road vs an underrated Nebraska team that just beat a top 25 Creighton team at their court. And UVA doesn't gave anymore games until the play UH on the 17th. @pesik