And #14 in the Coaches Poll
We only dropped a couple and Wisconsin moved into the poll….voters showing respect for the Coogs.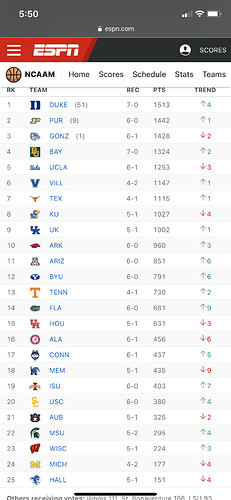 Iowa state has a better record than Memphis and beat them by 20 points yet they are ranked one spot below them? It's hard to take college sports seriously sometimes Lmaoo
Someone has us 5th which I'm all for. And surprisingly Seth Davis doesn't have us the lowest, he's actually pretty fair this week at 18. Also, no one dropped us
See it's alright to lose to Big 10 teams
Just don't beat those ranked above you.
They were unranked to begin with. Wisconsin has the same record as us and beat us. Should they be ranked ahead of us just because of that?
I said it before I wouldn't at all mind them being ranked ahead of us. This isn't college football, we need to do our best to illuminate hypotheticals. I think if we played them again we would win. But we have the same record as them and they beat us. I think they deserve it

Just my opinion of how the rankings should be