I hope that this week long break gives Fabian and Kyler a chance to heal completely!!!
Kellen the guest tonight at the Coach's Show.
Recall , the days when 1 single AP vote was exciting enough that it generated its own thread. Houston is is incredibly fortunate to have coach Sampson, his staff, and the young men who do the hard work.
This program needs to be appreciated more.
They need to be with sold out crowds. Don't know what you have until it's gone.
We do alright with covid, etc but we really should have 75% or more at our games.
We do have sold out games… folks need to be there and be there early! Imagine if every seat was filled with an amped up crowd each game?
That's ok, our fans are known to show up late but make up for it by leaving early.
Seriously I think the only thing we really lack crowd wise are wild and crazy students like other big time programs.
Just don't see our students getting excited. What is going to happen when our old crazy fans die off?
I absolutely can't understand why there is not more excitement by the students.
We didn't have many students at the game prior to moving to FC. Only a handful go bonkers at the basketball/football games but, for change, they are there.
Nah, the entire crowd should be loud, not just the students. I also think the students do get loud when they show up. Fertitta Center could be so intimidating if it was 100% full and loud throughout the game.
Thinking of driving to Tulsa for the game. Long weekend so might as well use it.
Umm did you read what I said? Even when the crowd roared most of the students sat on their newspapers.
Pointing out that at most top programs the cameras zoom in on crazy students. But like RW pointed out at least the students are showing and that is a good thing
I think understand what you're talking about now and I agree with you. When the camera pans on them, it is a lot more tame compared to other student sections.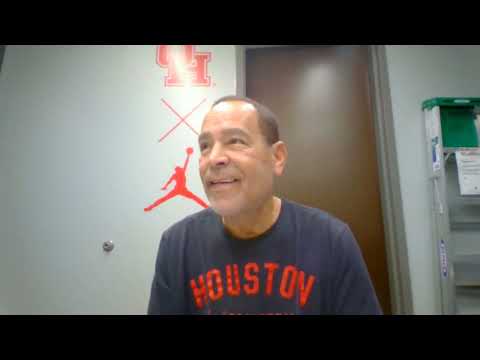 Thanks @HRReview
Kyler and Fabian couldn't practice yesterday according to CKS.
It sounds like Kyler isn't practicing much because of his ankle. Just a play him on Gameday situation
He said that Kyler and Fabian not practicing this week we did not have 10 available players.