1st bit of schedule info leaked and the Cougars are playing in the Gulf Coast Showcase in Estero, FL fro 21-23 Nov. First game is against George Mason. Other teams in the tourney are Hofstra, Kent State, Wofford, South Dakota, Bradley, and Vermont. Only 2 teams in the tournament had an RPI better than 100 (Hofstra and UH) and 2 others had RPI's better than 200 (Kent State and Vermont).
Cougars to Compete at Gulf Coast Showcase
Cougars face George Mason on Nov. 21 in Germain Arena in Estero, Fla., tournament runs through Nov. 23
http://www.uhcougars.com/sports/m-baskbl/spec-rel/061016aad.html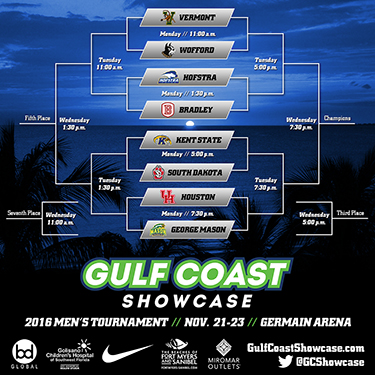 vs. GULF COAST SHOWCASE FIELD
The Cougars are 0-1 all-time against George Mason after dropping an 88-84 decision in overtime in Fairfax, Va., during the 2013 College Basketball Invitational Quarterfinals.
Houston is 3-0 against Kent State but has not played the Golden Flashes since an 80-56 win on Dec. 7, 1991, during the Disneyland Freedom Bowl Classic in Irvine, Calif.
Houston is 7-13 against Bradley and has not played the Braves since a 69-52 win on Dec. 28, 1967, during the Rainbow Classic in Honolulu.
The Cougars have never played South Dakota, Hofstra, Wofford or Vermont.