2017 Houston Cougars fall practice preview: Defensive line
By: Jimmy Schofield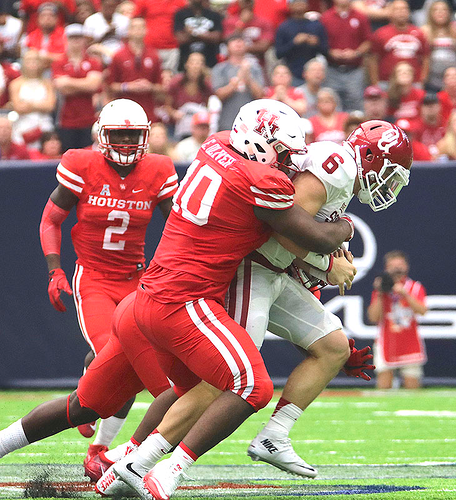 photo courtesy
texashsfootball.com
With the dog days of summer upon us, Coogfans will break down each position for your 2017 Houston Cougars football team led by first year head coach Major Applewhite. Each Monday a new article will be published with today's focusing on the defensive line.
This could be the deepest group of down linemen in the history of Cougars football (take it easy on me old timers), with each position having a legit two and some even a three-deep. Let's explore:
Post-Spring depth chart (this is my guess as Applewhite hasn't released an official depth chart)
Defensive end: Nick Thurman (6-foot-4, 290, RSr.), Zach Vaughan (6-4, 270, RJr.)
Defensive tackle: Ed Oliver (6-2, 290, So.), Reggie Chevis (6-2, 295, G-Sr.)
Defense end: Jerard Carter (6-3, 297, RJr.), Aymiel Fleming (6-2, 285, So.)
True Freshmen Contributors
Alexander Duke (6-3, 240), Noah Jones (6-4, 245), Payton Turner (6-5, 217)
Duke, Jones and Turner could all end up as "rush" linebackers with as much athleticism as they have. Duke plays the run well with a hard first strike that allows him to disengage from opposing offensive linemen quickly. The consensus three-star signee had 12 sacks for his high school career for Bellaire. Jones meanwhile was once listed at 260 pounds playing defensive end at Lancaster High before getting down to his current 245. Another consensus three-star ranked recruit by the major services, Jones concluded his career with 138 tackles including 48 his senior season showing smart football instincts for a defensive lineman, while also adding 11 career sacks. Turner is a bit on the small side for a down lineman, and will probably redshirt to bulk up or find a position more suiting his athleticism as he played on the Westside High basketball team.
Note: Bryan Jones, a 6-5, 240 pound strong-side defensive end isn't enrolling in school this semester but may join the team for next season per various media sources. We only mention him because he was the highest ranked recruit signed this past February (a 4-star ranked prospect out of Baton Rouge, La) at a position that's always in need. He signed with the Coogs over programs such as Texas, A&M, Baylor, Oklahoma, Georgia and USC.
Analysis
When speaking of the defensive linemen, it all starts with "Big Ed." The consensus five-star prospect out of the 2016 class did not disappoint during his true freshman season last year, amassing an amazing 47 SOLO tackles, which ranked him SECOND nationally among defensive linemen, as were his 66 total tackles which were also third and fourth respectively on his own team. He defined the term 'beast mode' no matter where he lined up, whether it was at the nose or end lined up against an offensive tackle as his 22.5 tackles-for-loss were tied for THIRD nationally. If he couldn't get to the quarterback or running back; no problem, as he did his best JJ Watt impersonation, leading all defensive linemen, again, with NINE pass breakups last season. Oliver has the innate ability to be able to read the quarterback's eyes, get his huge paw up in the air and bat down the attempted pass. For good measure, Big Ed concluded his true freshman season as a one-man wrecking crew with five sacks and three forced fumbles. And the scary part for the rest of the nation, but a delight for Coogfans, is he still has two seasons left on Cullen Boulevard before taking his talents to the NFL in 2019.
As good as Ed was, if anyone thinks the D-line will be a one-man show they'd be sadly mistaken. Flanking the beast will be two experienced players in Nick Thurman and Jerard Carter. Thurman begins his final season as a starter after having started only 8 of his first 32 games. Improving each season, Thurman has had five TFL over both of the past two seasons with 60 total tackles (31 solo). Though he's more of a run-stuffer, like Ed, he's agile enough to get his hands up in the air to defend three passes while being physical enough to force two fumbles last season as well. Carter, like Thurman, has improved each of the past two seasons after redshirting his true freshman season in 2014. After amassing 13 tackles (6 solo) in 13 games in reserve two seasons ago, Carter started 9 of the 12 games he played in last season. Though the stats may not have showed it (20 total tackles, 10 solo), Carter's play was key as he rotated in often, giving Big Ed a breather, as he often played at the nose as most of the down linemen were interchangeable under old coordinator Todd Orlando. New defensive coordinator Mark D'Onofrio would be smart to use his defensive linemen the same way as to not allow opposing offensive coordinators to key in on Oliver, though you know he'll see constant double teams and even triple teams anyway.
Key players in reserve at end include Zach Vaughan and Aymiel Fleming. Vaughan is good at using his length and size in leveraging his way through gaps as he demonstrated at Navy last season as he had a career high 4 tackles including 1 for loss in his only career start (in 22 games playing mainly special teams). Fleming contributed 6 total tackles and a sack in limited playing time last season but was good enough to see the field as a true freshman. He's another "ball smart" player who is always around the ball, meaning he's quick at reading plays, getting off and to the ball as he had 133 career tackles at LaMarque High, outstanding for a down lineman.
Two wildcards up front could be Reggie Chevis and Chauntez Jackson (6-5, 290, RSr.). Chevis is a graduate transfer from Texas A&M who had 25 tackles, including two for loss, a sack and a forced fumble playing in reserve in 13 games last season after seeing action in only five combined games during his first two seasons after a redshirt. The consensus three-star signee out of Sharpstown High could give D'Onofrio the flexibility to move Big Ed all over the line like BJ Singleton did last season. Jackson redshirted last year because of injury and hopes to fulfil his potential his final season, that potential being a high three-star prospect that decomited from Tennessee right before National Signing Day 2013 to sign with the good guys. Out of Inglewood, California, Jackson has had only 7 total tackles in 26 career games.
Two other final players that could make an impression on defensive line coach A.J. Blum are D.J. Jenkins, a 6-2, 260 pound former linebacker turned lineman, and the latest signee to the 2017 class, Blake Young, a 6-2, 295 pound lineman out of Cerritos College in California. Performing in space is familiar for Jenkins but he loved playing downhill as a middle linebacker and even played tight end at Huntsville HS. He also contributed on the track and field team as well as the basketball team as his athleticism for a big man can translate to shooting the gaps for tackles-for-loss much like Cameron Malveaux did over his four seasons on the "Third Ward Defense." If you'll remember Malveaux began his career at 215 pounds but ended at 270 and is now a member of the Miami Dolphins as an undrafted free agent. Young meanwhile, had 23 tackles, including 2.5 for loss and a sack in ten games last season and gives Blum a legitimate 3-deep across the line, not even including the true freshmen.
Expectations
As stated to begin this preview, this defensive line could be as deep as any line in the history of the program but the proof will be in their performance on the field as it was the level of play up front that helped the "Third Ward Defense" to allow only 100 yards per game rushing (fourth nationally). How good will Ed Oliver be in his second season with opponents having game tape to prepare for him? How much will Thurman and Carter step up lining up next to Oliver? What changes will D'Onofrio make scheme wise? Who steps up as valued members in the rotation? The answers to all these questions will be key in determining the success of the 2017 defense. Next week we take a look at the "big uglies" up front, aka the offensive line.