2017 Houston Cougars fall practice preview: Safeties
By: Jimmy Schofield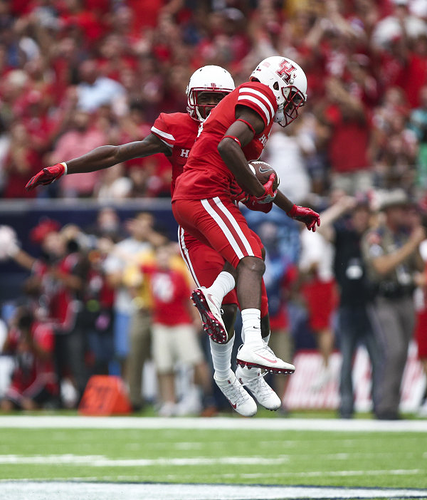 photo courtesy
uhcougars.com
With the dog days of summer just about upon us, Coogfans will break down each position for your 2017 Houston Cougars football team led by first year head coach Major Applewhite. Each Monday a new article will be published, today we look at the safeties and include the nickel back.
The Coogs have had four defensive backs drafted into the NFL over the past five seasons (and five will be on NFL rosters if you include undrafted free agents).
Post-Spring depth chart (this is my guess as Applewhite hasn't released an official depth chart)
Field safety: Garrett Davis (6-1, 200, Jr.), Collin Wilder (5-11, 175, So.)
Boundary safety: Terrell Williams (6-3, 210, Sr.), Darius Gilbert (6-2, 195, RFr.)
Nickel back: Khalil Williams (6-0, 200, Jr.), Patrick Rosette (6-1, 195, RFr.), Joeal Williams (5-10, 185, RJr.)
True Freshmen Contributors
Grant Stuard (6-0, 215, Conroe Oak Ridge), Amaud Willis-Dalton (6-1, 205, Cypress Ranch)
Though both are listed as linebacker on the official roster, I see them as more of an outside linebacker/safety hybrid or possible nickel back as both have the speed to cover slot receivers yet the physicality to play the run or blitz lined up over a slot receiver.
Stuard is a tackling machine who finished his career with 154 tackles (68 his senior season) and 7.5 sacks while being named to the District 12-6A First Team's in both his junior and senior seasons. He also has speed, which the staff is emphasizing in recruiting, as he competed in track & field for Oakridge and also qualified for the 2015 AAU Junior Olympic Championships as a member of The Wings Track Club, per his bio via uhcougars.com.
Willis-Dalton amassed 248 tackles, 33 for loss, 28 sacks, 13 forced fumbles while recovering six fumbles. The Mustangs went 11-1 last season, losing to Katy in the second round of the Texas UIL State football championships as the heat seeking missile had 87 tackles, 18 for loss and 14 sacks.
Analysis (of 2016)
After four seasons of Trevon Stewart and Adrian McDonald patrolling the Coogs backfield, last season was Davis and Williams first season as starters as they had mixed results. Williams had four more total tackles (69 to 65) and seven more solo tackles (52 to 45) but Davis had more tackles-for-loss (7 to 6.5), sacks (3 to 2), passes defended (5 to 3) and recovered a fumble (with both forcing one). Both bit often off of play-action and were burned deep as teams played off their (and defensive coordinator Todd Orlando's) aggressiveness too many times for my liking. Terrell Williams played well early on but nagging injuries derailed his season as he had 29 tackles, 23 solo, in 13 games played with five starts.
Expectations (for 2017)
With offenses as diverse as they are today, most teams play mainly out of a nickel package anyway as the Cougars 3-4 base of the past few years has really been a modified 3-3-5. So far this off-season Terrell Williams has been injury free as he's been moved to the boundary safety while Khalil Williams (no relation) has been moved to the nickel spot that was occupied mainly by Brandon Wilson last season. Defensive backs coach Clay Jennings wants to feature Khalil's hard hitting ability while still be able to defend slot receivers in space. Speaking of hard hitting, Garrett Davis remains as the field safety but all three will be interchangeable in defensive coordinator Mark D'Onofrio's scheme.
Collin Wilder, who played special teams mainly last season as a true freshman while contributing nine tackles (five solo), is coming on as a leader in the secondary and will provide depth behind Davis at the field safety. Another youngster, Darius Gilbert is behind T Williams at boundary while Patrick Rosette has been making enough plays to garner attention at the nickel. Joeal Williams has made plays (mainly on special teams), over his first two seasons, blocking a punt in a win over Cincinnati in 2015 while adding a sack and forced fumble at Texas State last season. If the former member of the 2011 Ft. Bend Hightower track-and-field team (that qualified for the 2011 AAU championships as a member of the 4X100-meter relay team) can step up and consistently make plays he'll surpass Rosette as he's running neck-and-neck with him on the second team at nickel as it stands now, unofficially. Caemen Mayfield (5-10, 205) is a junior walk-on who had a nice spring, making tackles all over the field but will probably stick to the scout team if he can't make plays on special teams as he doesn't have an official tackle over his first few seasons.
Overall the secondary is stacked with young talent but they have to be coached up. A lot of their play depends on the pressure the front seven does applies as we'll take a look at the front-7 over the next two weeks.