I had posted this on the other site recently and wanted to move it over here. Here's a list of potential returnees (I doubt Lantrip and Hernandez return):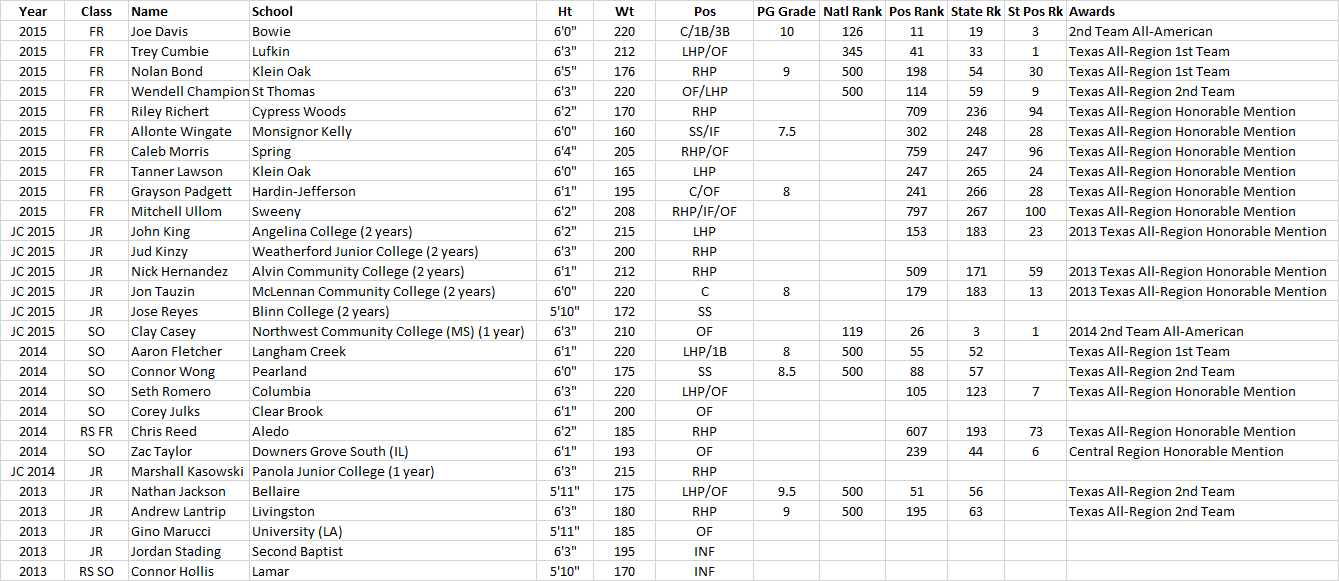 Incoming Freshmen:

And JC Signees (may not be comprehensive):
Jake Scheiner - INF - Santa Rosa Community College: Speed and gets on base without striking out, no pop
Jacob Barfield - 1B/3B - Wharton County Junior College: PG had him as the 434th H.S. prospect, at one point was going to Miss St, but backed out this semester, can absolutely mash the ball
Carson Larue - P - Cowley College: PG had him as the 291st H.S. prospect, Top notch starter who was going to OK St at one point, K's more than 1 per IP is 10-1 2.07 ERA 8CG
Tyler Fallwell - P - Cochise College: Solid starting pitcher who struck out more than 1 batter per IP this year and had a 2.87 ERA in a very hitter friendly league
Cooper Coldiron - INF - Grayson Junior College: Can hit with some pop - .348/.400/.642 with 24 doubles and 9 HR in a hitter friendly league.
Also found a 2017 HS commit
Jordan Monacy - 1B/RHP - 6'5" 230, Perfect Game Honorable Mention Underclassman out of Magnolia H.S.