2018 Houston Cougars Season Preview: Defensive line
By: Jimmy Schofield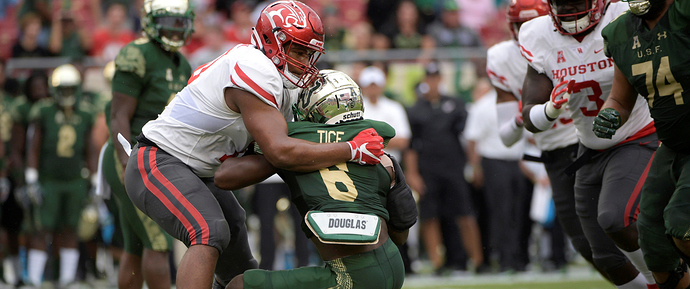 photo courtesy
uhcougars.com
Entering his second full season as head coach, Major Applewhite is expecting big things from a defense that carried the team to a 7-5 record last year. More of the same will be expected this season as a new offense is installed.
The "Third Ward Defense" allowed 274 passing yards-per-game to rank 120th nationally in 2017 under first year defensive coordinator Mark D'Onofrio. That's out of 130 FBS teams. New assistants were brought in to help the secondary in Lamar Morgan and Paul Williams to coach safeties and cornerbacks respectively. Morgan brings playing experience to the position as he started 40 games over his four seasons at Louisiana-Lafayette from 2003-07. The Copperas Cove native coached the past two seasons at Louisiana Tech and Western Carolina before that. He began his career as a Graduate Assistant at Vanderbilt during the 2012 and 13 seasons.
Williams meanwhile is very familiar with D'Onofrio as he's spent 10 years coaching on his staffs at Temple (2006-10) and Miami (11-15) and is a 21-year coaching veteran. Hopefully the duo can teach better technique and the unit can play more man coverage this season, as the huge cushions they gave wide receivers were so large that receivers were often untouched until they caught the ball deep down the field. But that's all about teaching fundamentals and molding your system to the talent on-hand.
We'll get to the secondary in a few articles, but the biggest help for a pass defense is to pressure the quarterback so we'll start with the defensive line. And of course, when talking about the line you start with Ed Oliver (6-foot-3, 290 pounds, Jr.). All "Big" Ed has done in his two seasons on Cullen Boulevard is accumulate 139 total tackles (94 solo) along with 39.5 tackles-for-loss, 10.5 sacks, an incredible 12 passes defended, forced 5 fumbles, won the Outland Trophy as the best interior lineman for the 2017 season while being named to just about every "first team" known to man. So, enjoy him for his final season donning a UH uniform before he's a top-5 pick in the 2019 NFL draft.
Taking up double and sometimes triple teams at the nose, Big Ed's explosion allows his fellow front-7 teammates to shoot the interior gaps for short yardage stops on run downs as the Coogs allowed 147 yards rushing-per-game last season (45th) after consecutive seasons of top-10 rankings in rushing yards allowed (108 in 2015 followed by 100 in 2016). While a lot of talent has graduated from those run stopping dominating seasons, plenty still exists.
Jerard Carter (6-3, 295, RSr.), who will line up next to Oliver at either end spot, played in just the final four games last season after suffering a foot injury during spring ball. Carter will also spell Oliver when he needs a breather. Carter, like Oliver, is strong at the point of attack and can disengage from blocks quickly to force chaos at the line of scrimmage. For his career the Houston Dekaney product has 55 total tackles (36 solo), 7.5 TFL, 2 sacks and fumble recoveries while starting 11 times in 29 career games.
The other defensive end spot is up in the air, but the opportunity is there for a number of under and upper classmen to make their mark including Isaiah Chambers (6-5, 265, RSo.), Payton Turner (6-6, 288, So.), Aymiel Fleming (6-3, 295, Jr.), Zach Vaughn (6-5, 265, RSr.), Blake Young (6-2, 285, RJr.), Noah Jones (6-4, 270, RFr.) along with true freshmen Taj Brown (6-3, 270, Fr.), Logan Hall (6-6, 240) and Willie Smith III (6-1, 245).
The most intriguing could be Isaiah Chambers, who sat out last season after transferring from TCU. The Aldine-McArthur product had an amazing junior season for the Generals in 2014 in which he amassed 36 of his 68 total tackles for loss with 21 sacks. He redshirted his true freshman season in 2016 meaning he hasn't played a down of football since his senior season in high school (2015). While the former 4-star recruit hasn't added a lot of bulk since his HS days, his specialty is his speed off the snap of the ball. Placing him next to Oliver will be an offensive coordinator's nightmare. He can also line up as a "5 tech" end on passing downs and a "3 tech" on early run downs lining up next to Oliver. The possibilities are limitless where D'Onofrio could line up Oliver, Carter and Chambers. While Oliver and Carter played limited snaps in the spring game, Chambers turned some heads with two sacks via a combination of quickness off the line and power to go through the interior of the Oline.
Zach Vaughn has also seen limited snaps in 33 games over his last three seasons, barely registering double digit tackles but has extensive playing time on various special teams' units and provides depth. The senior also started the spring game opposite Carter and Oliver for what that's worth.
Payton Turner "turned" some heads early last season by playing well in reserve at end at such a small size, using his speed and quick hands to intercept a pass against Rice. It should be noted he's gained around 45 pounds according to his latest bio at Uhcougars.com so we'll see how his burst off the line is affected this year. The Houston-Westside High product totaled 14 total tackles (10 solo) on the season including 2 for loss and a sack.
Aymiel Fleming also played well early on, but conditioning problems led to seeing decreased playing time as the season progressed, totaling 13 total tackles (8 solo), including a TFL, a sack and a pass defended in 19 career games over his first two seasons. He can also back up Ed at the nose spot on the few occasions Oliver sits.
Blake Young meanwhile transferred from Cerritos College in Los Angeles, Calif before last season began and registered a tackle after totaling 23 the previous season for Cerritos in 2016. At 5-11 he has the leverage along with the strength to out leverage opposing offensive linemen to get into the opponent's backfield. The question is does he have the motor to play down after down to crack the top five or six on the depth chart as that's how many down linemen usually played last season.
Speaking of cracking the rotation, that's what Noah Jones, Taj Brown, Logan Hall and Willie Smith III will try to do with solid summer practices. Jones totaled 138 tackles for his HS career and was ranked as the nation's 42nd ranked defensive end by 247sports. The Lancaster product lined up at the strong side DE spot during the spring game showing off his power nicely against the first string OL.
Brown played inside linebacker at Donaldsonville High in Louisiana and will still man the middle but could do it closer to the line-of-scrimmage as he played some at the nose during spring practice as an early enrollee. He could also play at defensive end as he already has the strength to hold his own in the trenches. Hall and Smith both have the body types to also play outside but have the quick-twitch ability to shoot the gaps inside at defensive end as Hall was often seen flying down the field on Belton High's various coverage units on special teams and also ran track. Smith meanwhile registered 162 total tackles including 39 TFL and 13.5 sacks. The Spring native also forced five turnovers and played running back as a three-year starter as he's the type of pure athlete that Applewhite and D'Onofrio are looking to recruit; a see-ball, get-ball athletic freak.
Stay logged into Coogfans.com for all the latest happenings over summer camp and our next season preview article focusing on the linebacking core.