2018 Houston Cougars Football Preview Series: Secondary
By: Jimmy Schofield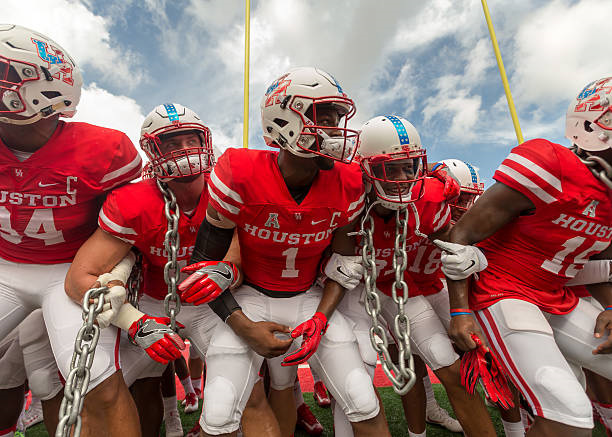 Entering his second full season as head coach, Major Applewhite is expecting big things from a defense that carried the team to a 7-5 record last year. More of the same will be expected this season as a new offense is installed.
The "Third Ward Defense" allowed 274 passing yards-per-game to rank 120th nationally in 2017 under first year defensive coordinator Mark D'Onofrio. That's out of 130 FBS teams. New assistants were brought in to help the secondary in Lamar Morgan and Paul Williams to coach safeties and cornerbacks, respectively. The NCAA allowed programs to hire a tenth assistant this season, so Applewhite wisely chose to hire his extra assistant just to coach safeties in Morgan. The Copperas Cove native brings playing experience to the position as he started 40 games over his four seasons at Louisiana-Lafayette from 2003-07 in which he amassed 111 tackles, 61 solo. Morgan began his coaching career as a graduate assistant at Vanderbilt during the 2012 and '13 seasons before heading to Western Carolina (2014 and 15) and Louisiana Tech (the past two seasons).
Williams meanwhile is very familiar with D'Onofrio as he's spent 10 years coaching on his staffs at Temple (2006-10) and Miami (11-15) and is a 21-year coaching veteran. Hopefully the duo can teach better technique and the unit can play more man coverage this season, as the huge cushions they gave wide receivers were so large that receivers were often untouched until they caught the ball deep down the field. But that's all about teaching fundamentals and molding your system to the talent on-hand.
Soft coverage by the corners will depend on two key factors; pressure up front and physicality on the back end. The cornerback position upgraded talent wise when Nick Watkins (6-feet-1 inches, 205 pounds, Sr.) transferred from Notre Dame. The DeSoto native has 35 games of experience in South Bend including 10 starts (9 last season) in which he's amassed 34 tackles (26 solo), 9 passes defended and an interception. Watkins has been labeled as injury prone (he redshirted two seasons ago with a broken arm and finished last season with knee tendonitis) and inconsistent. The scouting report on the consensus ranked 4-star prospect out of Bishop Dunne would rely on his speed (once timed at 4.5 in the 40-yard dash), athleticism and physicality over technique. How much can D'Onofrio and Williams refine that technique in his final season as a collegiate athlete will determine the type of season he has as well as the secondary as a whole.
The other cornerbacks expected to contribute heavily include Isaiah Johnson (6-4, 205, RSr.), Alexander Myres (5-11, 192, Sr.), Joeal Williams (5-11, 195, Sr.), Ka'Darian Smith (6-1, 186, Jr.), Javian Smith (6-3 193, RSo.), and D.J. Small (5-10, 185, So.). All had their good moments last season as well as their bad. Johnson has the prototypical size for a corner but is in just his second full season after converting over from wide receiver. In 2017 the Bryan native finished leading the position with 45 total tackles (34 solo), 7 passes defended and 2 interceptions. He showed confidence in that he would get beat one play and get right back up to make a play the next.
Myres is a former walk-on who had 42 total tackles (27 solo) last season along with 6 pass breakups, 2.5 tackles-for-loss and an interception and fumble recovery each. During the Spring game Myres got beat deep on one long throw, but also read true freshman quarterback Clayton Tune's eyes on a slant over the middle and intercepted the ball which would have gone for a "pick-6" if not for a penalty wiping it out. Joeal Williams meanwhile has shown tenacity and toughness for his size as he was used as the designated blitzer off the slot (registering 4 TFL and sacks each) over the past two seasons and could be used as the primary nickel-back.
Ka'Darian (Smith) has been the talk of camp as he's been seen making plays all over the field after a solid spring. The spring native has just 7 total tackles in his first two seasons in (15 games). Javian (Smith) has the size needed for the position but didn't play last season (and sparingly in 2016) due to you guessed it; injuries. Small was also injured last season after playing just one game but impressed the coaching staff enough to see the field at just 5-9.
Two freshman that fit the bill size wise, which could lead to early playing time are Johnathan Phenix (6-0, 184) and Zaire Taylor (6-1, 182). Though just a 2-star ranked prospect, Phenix is an aggressive defender who loves the challenge of matching up in man coverage. The McGregor native (20 miles southwest of Waco) had 20 pass breakups and 3 interceptions during his high school career. Taylor meanwhile also has the measurables that cannot be taught, namely size and speed while also possessing a tenacity for the ball. The San Antonio O'Connor standout (unanimous selection to the first team all-district both as a junior and senior) is also a hard hitter who loves to help out in run support, another attribute Applewhite and his staff are looking for in recruits, IE toughness.
Over the past few seasons the defense has been playing out of a base 3-3-5 alignment with a nickel back on the field a good 70-percent of their snaps. The secondary lost two safeties last year to graduation in strong safety Terrell Williams and nickel Khalil Williams. Free safety and defensive captain Garrett Davis (6-2, 210, RSr.) does return however to stabilize the safety position. But who replaces the Williams's (no relation)?
First off, Davis brings back 123 total career tackles (87 solo). In moving to free from strong safety last season he had less tackles than in 2016 (51 to 65), TFL (2 to 7) and sacks (0 to 3) but he did intercept 4 passes last year as the last line of defense in which he returned for 94 yards. Going into his third year as a starter, Davis needs to improve on communicating better in getting his younger secondary teammates lined up correctly as miscommunications (whether it be if they were in man or zone), or which teammates passed off which offensive players from level to level as the secondary as a whole was burned one too many times last year. Of course, a lot of that has to do with the lack of a pass rush as was mentioned earlier.
The strong safety spot will surely be manned by newcomer Deontay Anderson (6-2, 217, RFr.) with Gleson Spreewell (6-2, 195, So.) backing both him and Davis up. Anderson is a former 4-star recruit from Manvel who was ranked as the top safety by 247 for the 2016 singing class. He played his true freshman season as Ole Miss where he registered 32 total tackles, including 1.5 for loss and an interception in playing every game with one start. He transferred after the NCAA placed the Rebels on probation for recruiting violations (none that were related to him) and was recently given a waiver to play this season after redshirting last year.
Spreewell is a transfer from Mesa Community College where he had 75 tackles last year with 6 pass breakups, 2 interceptions (including a "pick-6") and 2 fumble recoveries (including a "scoop-and-score"). Spreewell's ball-hawking ways began at Centennial High out of Surprise, Az where he totaled 18 pass breakups, 7 interceptions and 3 fumble recoveries in his final two seasons. During the spring game Anderson led the defense with 5 tackles while Sprewell had a nice pass breakup in man coverage on a slot receiver.
Speaking of ballhawks, that's exactly what three youngsters have been, well during their high school careers anyway. Both Grant Stuard (6-1, 210, So.) and Amaud Willis-Dalton (6-1, 215, RFr.) will contend for the nickel back spot along with veteran Darius Gilbert (6-3, 200, RJr.) while true freshman Garrison Vaughn (6-2, 198) enrolled early to contend at the safety spot he fits in the best at which will be determined well into the season. Stuard played in 7 games last year before an injury forced him to miss the end of the season as he had 2 tackles after registering 154 total tackles including 7.5 sacks in his prep career at Oak Ridge. The Conroe native has speed for days as he qualified for the 2015 AAU Junior Olympic Championships as a member of the Wings Track Club.
Willis-Dalton redshirted last year but defines the term "play-maker" as he had an amazing 248 total career tackles in high school, including 33 for loss, 28 sacks, 13 forced fumbles, 6 fumble recoveries and 5 pass breakups as he was a true sideline-to-sideline player at Cypress Ranch High. Time is running out for Gilbert who has just 4 total tackles in 11 career games over the past two seasons after starting for three years at North Webster High in Springhill, Louisiana, registering 66 tackles, 3 interceptions and 2 fumble recoveries his senior season. Vaughn meanwhile finished his career as a three-year starter at Belton High with 279 total tackles, 13 interceptions (including 2 pick-6's) and 3 forced fumbles while also running track proving how much of a dynamic athlete the youngster is.
Overall, D'Onofrio's defenses have allowed an average of nearly 223 passing yards per game over his last nine seasons as a defensive coordinator (four each at Temple and Miami and last year here at UH). His pass defenses have finished in the top-40 four times over that span including three top-20 finishes but have also finished in the bottom-40 including last season's 120th ranking by allowing 274 yards through the air. The "Jack Boyz" had 15 interceptions last season (tied for 23rd), just ahead of D'Onofrio's nine-year average of 13 picks per season as a DC. They allowed just 10 touchdown passes, also ahead of D'Onofrio's secondary allowing 14 TD passes per year. The key for a successful season will be how Williams, Morgan and D'Onofrio get the backend to communicate with one another and play fundamentally sound football because the talent is abound along Cullen Boulevard.
Next week is our final season preview article as we take a look at the special teams.