2018 Red White Spring game analysis
By Jimmy Schofield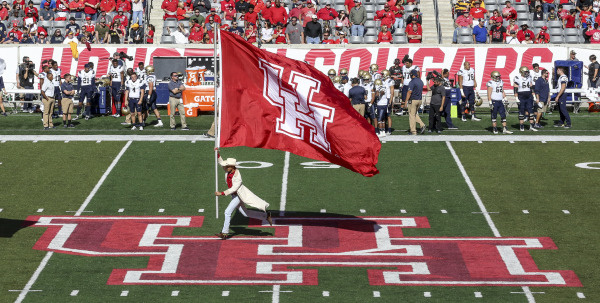 photo courtesy uhcougars.com
The 2018 Houston Cougars held their annual Red/White game this past Saturday afternoon with the Red (first team offense and defense) over the White by a final of 31-17 on a cool windy day inside TDECU Stadium. While analyzing a spring game is difficult with the amount of "mixing and matching" as well as players not playing, our love at Coogfans supersedes that, so here we go!
Offense
After splitting time between slot receiver and quarterback over his first season and a half, D'Eriq King (5-11, 190, Jr.) made the full-time switch to QB eight games into the 2017 season, taking over for Kyle Postma one series into the South Florida game. King went on to start the next four games and would finish the season completing 64.9-percent of his passes (89-for-137) for an average of 247.6 yards-per-game (1,238 total) with just two interceptions to six touchdowns.
He picked up where he left off even with a new offensive coordinator, which we'll get to more in a bit. After his first three passes were incomplete, the Manvel native connected on 8-of-10 passes for 259 yards with two touchdowns, a 59-yarder to Terry Mark (6-1, 195, Jr.) and a 60-yarder to Courtney Lark (6-2, 195, Jr.), both on deep posts. With both Steven Dunbar and Linell Bonner lost to graduation and possibly the NFL, Mark, Lark, Keith Corbin (6-3, 193, Jr.), Tre'von Bradley (6-0, 185), Jeremy Singleton (5-10, 175) and Marquez Stevenson (5-11, 177, RSo.) will have ample opportunity to replace their combined 380 career receptions, 4,700 yards and 24 TD's.
Lark had 3 receptions for 107 yards and the TD while Mark added 94 yards on just two grabs. Corbin caught one pass, a 54-yard deep post while Bradley had 54 yards on 3 receptions as a burner on the outside. Singleton didn't play, presumably due to injury and Marquez didn't register a reception as he's still recouping from injuries that have kept him on the side lines the past two seasons, though he did field punts as special teams were not live.
The offense looks "simple" under new coordinator Kendal Briles, basically a take what the defense gives you. With wider offensive line splits opposing front 7's have to declare which gaps are their responsibilities up front. This does two things; it widens the edge off the C (or D) gaps making it more difficult for an outside pass rush, while allowing offensive linemen to see an inside blitz (and/or stunts/twists) more defined. It also allows the quarterback to step into the pocket more for the deep tosses down field.
These wide gaps also allow for huge rush lanes on the interior which is what Mulbah Car (6-0, 210, Jr.) took advantage of as he ran for a hard fought 72 yards on 10 carries and a TD. Surprisingly he wasn't the leading rusher as that went to Kevrin Justice (5-11, 205, RJr.), who rushed for 99 yards on 13 attempts with a TD as he began the game with quite a few physical runs between the tackles against the second-string defense. With the leading rusher from last season, Duke Catalon, no longer with the team and Patrick Carr (5-11, 197, RJr.) not playing, Justice had ample opportunity to make a dent in the depth chart. He'll have to contend with the speedy Davion Mitchell (5-11, 185, So.), who had 26 yards on only two carries on the afternoon.
The QB run game will be featured in Briles offense via the zone read option, speed option, draws or simply when the signal caller see's no receivers open and decides to pull the ball down to run. King had minus-20 yards on three carries as he was sacked twice.
The battle for the backup QB spot should go well into Fall camp as both Bryson Smith (5-11, 185, RFr.) Clayton Tune (6-3, 200, Fr.) put up good showings Saturday afternoon. Smith completed 9-of-15 passes for 99 yards while Tune connected on 11-of-16 for 85 yards but did stare down a target over the middle as he was intercepted.
While it's known that Smith is a Greg Ward Jr./D'Eriq King clone in being a true dual threat QB, Tune also showed some nice wheels as he ran for 30 yards on 4 carries including a 13-yard run on his first play from scrimmage via a read option play. Smith had a 15 yarder, finishing the day with 26 yards on 4 totes. Adding the run-pass option will make this offense lethal as a running QB like King will isolate a defender who has both run and pass responsibilities. Reading what that defender decides to do, King will either throw the pass (if said defender attacks the run) or tucks the ball and takes off running if he stays back which is what we saw a few times during the scrimmage for huge gainers in both the run AND passing game.
Another element Briles hopefully incorporates back into the offense is the use of a tight end. While Romello Brooker (6-3, 240, Sr.) only caught one pass for 4 yards, Parker Eichenberger (6-3, 225, RFr.) had 16 yards on 3 receptions and Northern Colorado transfer Sid Turnbull (6-4, 245, Jr.) had 4 catches, though just for 14 yards, but did show off nice hands on a one-handed grab in which the ball was thrown behind him. In all the tight ends were used over the middle after the wide receivers took the secondary deep and were often targeted via play-action boot leg type passes. These boot passes may not go for huge yardage, but they will keep the chains moving while adding one more headache for opposing offensive coordinators.
Finally, the offensive line of Josh Jones (6-5, 303, R-So.), Mason Denley (6-4, 308, RSr.), Kameron Eloph (6-3, 290, RJr.), Braylon Jones (6-3, 311) and Jarrid Williams (6-6, 295, RJr.) had a nice game in both the interior run game as well as giving the QB enough time to throw in the deep passing game. One thing that did concern me was the center spot. With Will Noble (6-feet-4, 297, Sr.) sitting due to what I'm sure is a precautionary issue (not wanting him to get injured), both Eloph and Cole Miller (6-2, 295, RSo.) had way too many high snaps for my liking. High snaps are obviously bad for an up-tempo offense that's based on timing. Ryan Deshotel (6-4, 304, RJr.) had been the backup center the past few seasons but played mostly at guard on the second team along with Keenan Murphy (6-1, 290, RSo.) while Dennis Bardwell (6-5, 290, So.) and JC transfer Bo Alexander (6-4, 272, Jr.) did a nice job with the 2's.
To sum up what we saw Saturday afternoon was a lot of quick tempo, inside runs, outside screens almost to the sidelines with a focus of getting the ball to playmakers in space with blockers out front, then going deep off play-action or rolling the QB out of the pocket hitting a tight end in the flat.
Defense
Second year coordinator Mark D'Onofrio has a unit that oozes athleticism and explosion. It all starts up front with Ed Oliver (6-3, 290, Jr.) at the nose. "Big Ed" didn't play much Saturday afternoon as everyone knows what he's about. Jerard Carter (6-2, 285, RSr.) also played sparingly but those two along with Isaiah Chambers (6-4, 261, RSo.) will hold the point of attack as the down linemen. Chambers, a former 4-star recruit who originally sighed with TCU out of Aldine McArthur is as versatile as it gets for a defensive lineman. While lining up next to Oliver at one defensive end spot as a "3 tech" on early run downs, he can also line up as a "5 tech" end on passing downs which is what led to the only two sacks of the scrimmage on Saturday as his explosion off the ball is only matched by that of Oliver's. Zach Vaughn (6-4, 265, RSr.) started next to Oliver and Carter and had an assisted tackle.
The depth up front is a plenty with Aymiel Fleming (6-3, 290, Jr.) and Taj Brown (6-3, 256, Fr.) at the nose with Payton Turner (6-5, 240, So.), Blake Young (5-11, 275, RJr.), Alexander Duke (6-2, 235, RFr.) and Noah Jones (6-3, 260, RFr.) at both end spots. Brown, Duke and Jones may be undersized, but they use their speed as an advantage in attacking and causing havoc at the line of scrimmage as Duke had a nice tackle-for-loss shooting the gap midway through the third quarter.
Like Mickey says in Rocky II, without size the defense "needs speed. Speed is what we need. Greasy fast speed." This is exactly what the linebacking core has plenty of with Austin Robinson (6-3, 235, Sr.) and Roman Brown (5-11, 222, RSr.) inside along with Emeke Egbule (6-2, 245, Sr.) and Leroy Godfrey (6-2, 235, RJr.) outside. Those four were starters in name only as there is also plenty of depth at the position with Miami transfer Darrion Owens (6-3, 240), Derek Parrish (6-2, 240, RFr.) and Jordan Milburn (6-0, 228, RJr.) inside, with David Anenih (6-2, 228, So.) and Elijah Gooden (6-0, 215, So.) outside. Brown led the way with 4 solo tackles, but he's always played well during the spring. The question is can he contribute during the season at his size? Milburn added 4 tackles (1 solo) while Parrish added 3 solo stops, Robinson and Egbule 2 each and Godfrey and Owens one each. One interesting lineup had Owens lined up at right end.
The backend has experienced starters in free safety and defensive captain Garrett Davis (6-0, 205, RSr.) along with Isaiah Johnson (6-3, 195, RSr.) and Alexander Myres (5-10, 192, Sr.) as returning starters at corner. With both Jeremy Winchester and Colin Wilder leaving the program, depth is a concern but Ka'Darian Smith (5-11, 180, Jr.), Javian Smith (6-2, 188, RSo.), no relation, and D.J. Small (5-9, 170, So.) return at corner along with Joeal Williams (5-10, 190, Sr.), Grant Stuard (5-11, 198, So.) and Amaud Willis-Dalton (5-11, 200, RFr.) will all contend for the all-important nickel spot, which plays a good 75-percent of most games. Myres got beat deep on one long throw, but also read Tune's eyes on a slant over the middle and intercepted the ball which would have gone for a "pick-6" if not for a penalty wiping it out. Both Stuard and Willis-Dalton had 3 tackles on the game.
At safety, two newcomers that could make an instant impact at the strong safety spot are Deontay Anderson (6-1, 220, RFr.) and Gleson Spreewell (6-2, 180, So.). Anderson is a former 4-star recruit from Manvel who was ranked as the top safety by 247 for the 2016 singing class. He played his true freshman season as Ole Miss where he registered 32 total tackles, including 1.5 for loss and an interception in playing every game with one start. He transferred after the NCAA placed the Rebels on probation for recruiting violations (none that were related to him) and is seeking a waiver to play this season after redshirting last year. If given the waiver the defense would have three former 4-star or higher athletes playing (including Oliver and Chambers).
Spreewell is a transfer from Mesa Community College where he had 75 tackles last year with 6 pass breakups, 2 interceptions (including a "pick-6") and 2 fumble recoveries (including a "scoop-and-score"). Spreewell's ball-hawking ways began at Centennial High out of Surprise, Az where he totaled 18 pass breakups, 7 interceptions and 3 fumble recoveries in his final two seasons.
Both played well on Saturday as Anderson led the defense with 5 tackles while Sprewell had a nice pass breakup in man coverage on a slot receiver. Also contending at safety will be veteran Darius Gilbert (6-2, 195, RJr.) while true freshman Garrison Vaughn (6-1, 194), who had 4 tackles and was all over the field.
As mentioned earlier, special teams wasn't live in the return games but punter Dane Roy (6-7, 240, Jr.) averaged 36.5 yards on 4 punts but again, the day was cold, rainy and windy which had a lot to do with the low average though he did have a long of 46. If the offense is able to move the ball between the 20's like last season average isn't as important as hang time (which allows the coverage unit time to get down field), and pinning opponents inside their 20-yard line, which the Aussie did a fine job of last year as did 25 times last season on 58 punts.
After connecting on 10-of-12 field goals last year, Caden Novikoff (5-10, 190, Sr.) picked up where he left off, kicking a 37 yarder and all three extra points while backup Dalton Witherspoon (5-8, 175, Jr.) hit on a 30 yarder and three extra points of his own.
The Coogs conclude spring ball this week with two more practices as second year head coach Major Applewhite looks to clean up mistakes made from the spring game as the team heads into the all-important summer off-season conditioning program as the team will be on its own until Fall camp commences in early August. Stay logged into Coogfans.com for all the latest off-season happenings of all University of Houston athletics.