Main Event time…CoogLurker smoked us in the Supers…Clean slate…who you got…I got ATM over Ole Miss for the Championship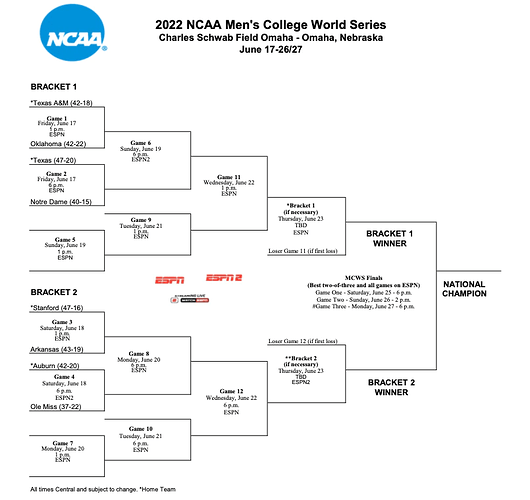 Oh lord I hope not we don't need more Aggie BS!!!
I won't wait on CoogLurker, I'll go with Stanford over txamcs.
Having gone 2-6 with my super picks, they'll probably both go 2 & out.

You guys think we'll win one by the time the 2922 CWS rolls around?
I posted this on the other thread. Taking ND over Arkansas in finals.
Someone has a time machine.
I won't be around for 2922. Let's win one in the next decade or two just to be sure…
I'll go with some dogs and take the Omahogs( if you have been to the CWS you have seen the shirts)over the Irish…
Rooting for Notre Dame…EVER… is tough, but it's necessary.
Let's get him to sing at one of our games.
GAME DAY !!!
Wishing BOTH ATM and TU lose and then will play each other in the Sunday loser goes home game
12-3 Sooners now after 4th inning Grand Slam
The game is so lopsided right now that the ESPN announcers are doing their best TBS announcer routine when the Braves were terrible… talk about anything other than the game.
It's frustrating as hell to see the Directors Cup standings and watch the CWS knowing that we have all the resources in the world to be in Omaha right now.
Good point, jeez. To see neither school in the post season is gross.
Agree it's disgusting how far both teams have fallen off the baseball map.
Just guessing but with no extension I can see us having a new coach after next year
Don't care who wins if utatm lose.