For comparison sake Tennessee had 16 that I counted.
AAC: UCF - 18; WSU 11; UH - 9; ECU, Tulane, USF - 7; Memphis - 5; Cincy - 3
DBU & ut austin have 20 each. 5 of Pierce's players, & 7 of Tennessee's are top 250 prospects.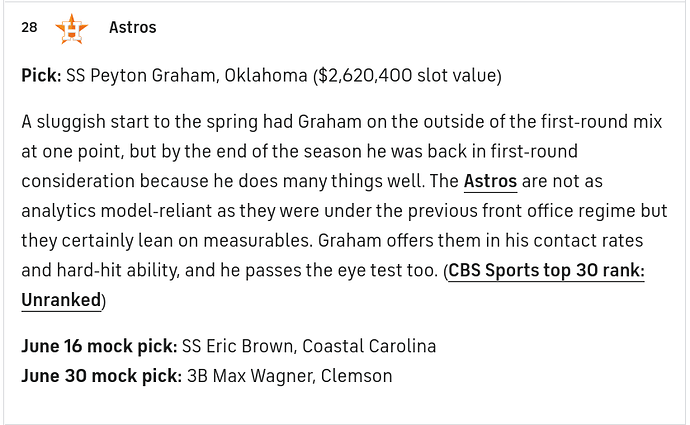 Really like this mock pick for The 'Stros.
Graham is a string bean right now. Should be a legit MLB HR threat when 20 - 30 lb heavier down the line.From Waxahachie.
I hate that pick…. Reminds me too much of Kessinger who has been an absolute bust….
This kid Graham only hit .335 this year and .288 last….if I'm going college bat I want a guy that dominates in college…. The hit tool and power tool did not show up at the Cape last year…
I also like a kid to have more walks than k's or atleast close……Graham had 69 k's and only 28 walks….not good.
As a 3rd round pick ok…. But not late first.
I could be wrong but these college bats that flash one year just scare me.
I do agree the Astros should take a bat with their first two picks regardless of position….now if Rocker drops to 28 I snatch him up and take the risk.
I did play baseball up to American Legion but I have zero coaching/scouting ability.
I like him from watching TV.
They do have the 80th pick as a comp for losing Correa.
Astros draft picks with top-10 round slot values
Round 1, Pick No. 28: $2,620,400
Rd. 2, Pick No. 64: $1,103,600
Free Agent Comp., Pick 80: $806,800 (for losing Carlos Correa in FA)
Rd. 3, Pick No. 103: $594,300
Rd. 4, Pick No. 133: $443,700
Rd. 5, Pick No. 163: $331,400
Rd. 6, Pick No. 193: $257,300
Rd. 7, Pick No. 223: $202,700
Rd. 8, Pick No. 253: $170,200
Rd. 9, Pick No. 283: $157,100
Rd. 10, Pick No. 313: $149,500
Rd. 11, Pick No. 343:
Rd. 12, Pick No. 373:
Rd. 13, Pick No. 403:
Rd. 14, Pick No. 433:
Rd. 15, Pick No. 463:
Rd. 16, Pick No. 493:
Rd. 17, Pick No. 523:
Rd. 18, Pick No. 553:
Rd. 19, Pick No. 583:
Rd. 20, Pick No. 613:
Well there are pro scouts that agree with you so your opinion is 100% valid….not demeaning you at all.
I've got a pretty decent amount experience as a player and coach…. Was offered a position as a part time regional scout for the White Sox years ago….but my opinion isn't any better than yours….
Just based off things I've seen or haven't seen……truth is unless the kid is a top 10 talent you never really know…. Even then players that were all-world never make it for one reason or another….
My own son would have been drafted last year, most likely in the 12th -15th round range….but made it clear he was done with baseball, just didn't love it anymore….I asked him if he could walk away and never ever say " what if" and he assured me he could….my point is that no matter how talented a kid is you never know where their heart is…… you could have a top three round kid that doesn't love it…. And it will show in the minors…. They won't get far….my kid was only turning down 10k so it wasn't a big deal…. Those Uber talented ones are not turning down millions or hundreds of thousands…. They will take the $ and you'll find out later their heart isn't in it.
Sorry to ramble on.
Did not think that at all.
Did you see this? Retired for a few seasons but just couldn't give it up forever.(even w #1 pick $ in the bank)
"Less than a month before turning 31, Appel becomes the oldest No. 1 pick in baseball history to make their MLB debut"
Oh yeah…. Glad he finally made it…that's a guy that could have packed it in but deep down loved baseball enough to keep pushing.
. I honestly think he was damaged goods before he ever hit the minors….
I see Almendarez & Medrano were added to the prospects list.
KC takes Sears in the 14th.
Astros have taken a couple of really good college shortstops today….for me one of the biggest indications of future success is when a kid walks more than he k's or at least close…. Tells me he's winning more of the battles and is not even close to being overmatched….
Jackson Loftin from Oral Roberts who I believe is a Houston kid….definitely one that got away.
Hit .349 with an OPS of 1.019, 10 HR and 54 RBI….last two seasons has had more BB than K's and been successful his last two seasons in the Northwoods League.
Zachary Dezenzo, Ohio St. shortstop hit .319, 19 HR,
56 rbi….little more swing and miss, but not bad.
Clayton & Deese go in the 17th. I wouldn't have bet on more than 1 or 2 Coogs being drafted since there's only 20 rounds. Pleasantly surprised.
Jackson is great kid, son played few tournaments with him. Played at Klein Collins
Former commit (Switched to Kansas State) Deundre Jones drafted out of high school 17th Round Red Sox. Why did we lose this kid to Kansas State…yikes.
I really thought Ryan Hernandez would be drafted. Someone will probably sign him as a FA. The Astros drafted a DII first baseman. UH doesn't get much respect at 501 Crawford Street.
Played at SHSU for 3 yrs b4 transferring. Saw him play for the BearKats a couple times.
Former Coog Johnathon Thomas went in the 19th to Washington.
He hit .400 with 18 bombs and 79 rbi……not a ton of swing and miss……still a long shot.
One of my former guys went in round 10.
Not good enough to get consistent time on the field here though……lol
I guess just having played at a more high-profile school can get you on scouts' radar. M.P. Cokinos at St. Mary's, Austin Goolsby at Embry-Riddle, Matt Sauceda at TSU are 3 I can think of who transferred and then were drafted or signed as undrafted FA's.
"One of my former guys went in round 10." I'm gonna guess ; Shuffield?