He throws up the Horns sign in the tweet, too…
We could be bringing in a top ten class in the nation……but if the coaching is not any better than last year it won't mean squat.
Look no further than UT and A$M for examples……year after year top ten classes….year after year poor coaching, crappy entitled culture, and consistent underachievement.
Hopefully Holgerson enjoyed a year of leaving the office early and is ready to put in the time required to build a successful program.
Never miss a chance to turn a positive into an anti CDH negative.
Oh get over it.
Was there anything I said that is not true?
I bought in 100% before last season……I hope it gets turned around.
But I'm not gonna pump sunshine after what I just witnessed this past season.
This is not a recruiting thread, it's a 2023 season thread.
Is my opinion not allowed if it doesn't align with yours?
Do you have to make virtually everything a jab at CDH? Can you ever just enjoy a positive? We are well aware of your opinion of Dana, and would not confuse you for a supporter if you failed to include a jab at him.
Yes, You are entitled to hate him all want ( oh yeah you may really like him but think he's a bad coach) and your opinion is your opinion; I got that part."
Everybody understands that, let's just be happy at getting top talent!
Nah… It's not…
I've been seeing people try to push the horns sign as an H…
Not no but hell no.
He just stated his opinion and it's not a wrong opinion. The talent is starting to accumulate a bit. We have seen some boneheaded coaching out of this staff the last couple years. Here's to hoping that it improves to maximize the talent.
Again, and again, and again, and again, and again, and again, and again, and again, and again, and again, and again, and again, and again, and again, and again, and again, and again, and again, and again, and again, and again, and again, and again, and again, and again.
Pollard's point was more about teams being loaded with talent don't always win because of poor coaching decisions and schemes, as evidenced by TAMU and Texas. What he stated is true.
A more expressive translation for those in need: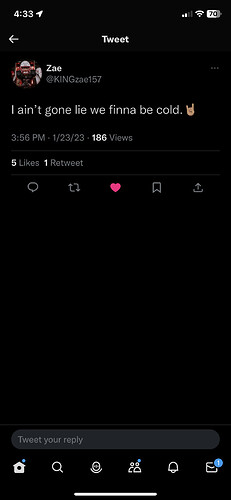 Words are spelled the way you might hear someone from the south speak. Like the MADGABS game, say it out loud to yourself like Boomhuar from King of the Hill.
I ain't gone lie = I am not going to lie (aka)
to be honest… or real talk… or let me give you the 411… I'm not lying when I say…
" my fellow countrymen hear me, prepare yourself! for what I speak is likely to make you doubt what you believe but I am steadfast in declaring it and declare it will be beyond reproach!"
we gone be = we are going to be aka
we're fixing to be, we currently have become
Cold = highly skilled aka
Cold-blooded (A la Rick James), cooler than cool (OutKast), cold as ice (foreigner) , a temperature which is harsh and difficult for anything but the cold to grow in, for opponents to bear, for those not used to the environment to struggle mightily in (e.g., see Germans invading Russia WWII)
You're all good Pollard. 2023 can be a redemption year or another year closer to the end of the CDH era. I look forward to either.
And there will always be some that think it's ok for a coach to say we need better players, but not ok for fans to say we need better coaching.
Thanks Thundercoog. I just really needed help with the meaning of "cold."
Perhaps you could develop a duolingo-style app. "Today's slang for Boomers and Gen-Xers"

The thing is, next year is such a whole new thing, it is impossible to know what will happen…a mystery…we could go anywhere from 3-9 to 8-4, and it wont be a surprise. Its total wait and see…Will HOUSTON be picked low next year? Almost certainly, YES. .Is CDH under real pressure from our administration to show at least SOME success next year? YES. Did CDH have a good recruiting year leading into Big 12? YES. Now we sit back and see how he does…gonna be fun, gonna be interesting…
This is where I'm at. I'm thinking, "we can't possibly have all of this amazing talent and suck, can we?".
I mean Dana & Co. have put together an amazing class
If we win 4-5 big xii games I'll be happy with the year, given we win the OOC stuff too.
If UH finishes 5-4 in conference next year, that would be a fantastic year in my estimation. However, making a bowl the first year in the Big 12 would be more than acceptable.
I realize it might be a few years before we contend, but the important thing is to be headed in the right direction after the 2023 season.
I have two goals for UH Football in 2023:
Beat UT
Bowl Game
In that order.
Any other positive is whipped cream with a cherry on top.
I again predict an 8-4 season, 5-4 in Big 12.
That should be acceptable. Plus win our Bowl Game which will be a solid Bowl due to Big 12 contracts.
Some Big 12 schools have a 27 year head start on us as to recruiting. Impossible to overcome that this season.
All of us look forward to this 2023 season!