Plays right in to UT players feel entitled
Agreed. My first thought was Damian Dunn reminds me of Kyler. But he also has a little bit of that Tramon mid range iso game too.
He's gonna be really valuable come conference play. I thought LJ would be the guy we go to when we need a big bucket, now I'm thinking it may be Damian. Season's still early tho.
Known as the Kellen Effect.
Good luck coaching team chemistry with all those $.
@MRCoog i hope the dude signs with a good program.
But does he have the body to be a 4?
Does he have the shooting to be a guard?
If not, then he's Robbie Armbrester.
He's the number #1 player in Greater Houston. That's good for me.
Would love to have him, but minutes would be tough to come by with TA and Chase also needing PT. If Lath isn't going to be a contributed and McFarland moves to the 4, then we'd definitely need more help at the 5, which is why us landing Queen would be perfect.
@MRCoog the longer Queen waits, the better for us
Cause Maryland has stunk so far. (2-3 record)
And Indiana hasn't been great either.
The only thing for us, i wish we got Jwan consistent touches. We don't feed him enough in my opinion
You look at Indiana, their (2) leading scorers are bigs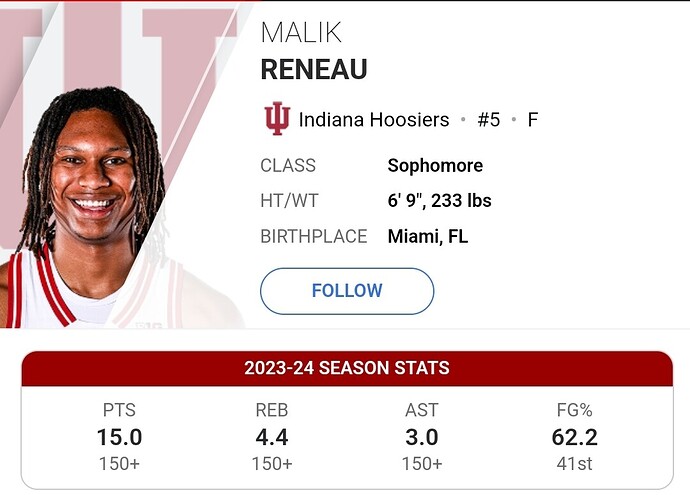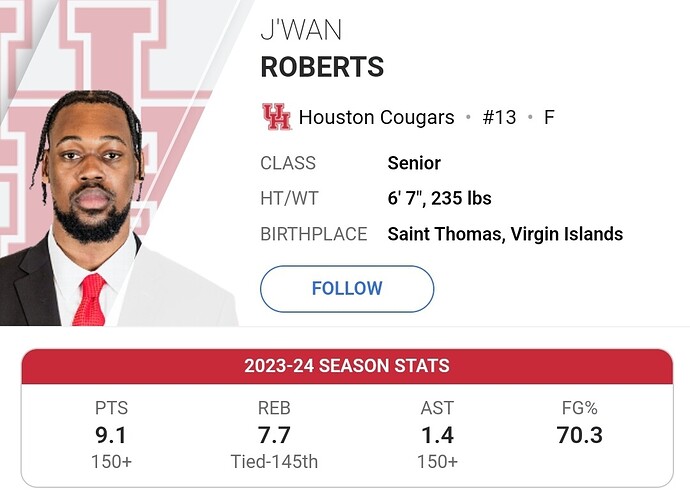 We always always start the game feeding the big in the post. So there's that
I feel ya. Im not a recruiting expert.
But, im guessing some negative recruiting against us, is we're guard oriented. Our bigs dont put up huge stats
Jwan whos low post game is solid, only attempted 10+ shots 1 game so far.
U look at Kansas & Indiana. Their bigs are taking 10-15 shots a game.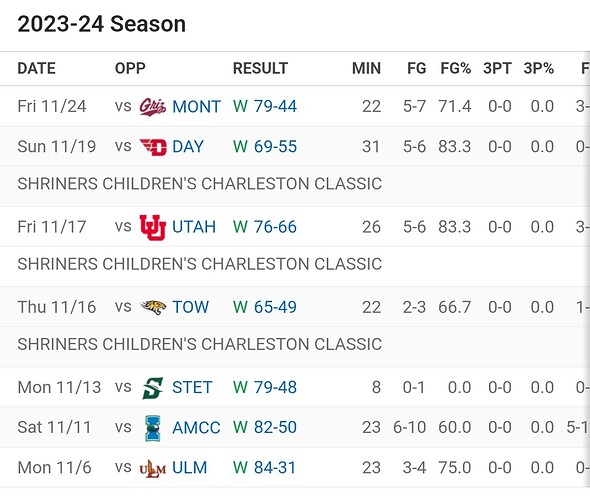 If you're good enough you get touches a plenty. Jarace for reference.
That's true but like catamount mentioned Jarace got plenty of touches. And DQ is a good passer so a plus would be there's a lot of good guards to pass to.
Hicks is not any breaking news here. The kid has offers from Ole Miss, Georgetown, A&M and SMU among others. College coaches are well aware of him.
Queen with 25 pts and 13 rebounds against IMG
Chase McCarty 2 points for IMG
DQ making a run at that #1 spot in the class. Just dominating the top high school basketball league.
Fabian is probably the most underestimated and undervalued player in UH's basketball history! And we have had a lot of that kind of players at UH so that's saying something. Watching our game against Miami last year it was so painful to see how much we missed Fabian in the lineup.
Fabian is the kind of player that lifts all of his teammates up when they have a hard time shooting the ball. When all of them struggled that was when he lifted them up with his dependable, consistent shooting. After a while they would all get their grooves back and start hitting their shots!
We didn't have a guy like that last year in the playoffs and it hurt us badly! He was the most improved player that I've ever seen! It seems once he came back from his injury he was a completely different shooter! He became a sniper! I believe if he was with last year's team we would have beaten Miami and have a shot at the national title!