Objectively true. I don't know how anyone could say otherwise.
It appears to me that evaluations of our QB's ignore the O-line play involved in the "development" of said QB's.
Now that UH's baseball season is over we can now focus our attention to football and the
B12. Happy days are here again!
IMHO UH doesn't need to beat UTSA. UH needs to knock the hell out of UTSA.
We aren't in the AAC anymore so we don't really need the whole "eye test contest" trophy. Just win and your in
Huge early game for the G5 New Years Bid.
UTSA wins @ UH. Blown out at Tenn & close AAC loss & probably still in it.
Rest of OOC is vs TX State & Army.
Ratings should have some outside TX looks w the other G5 contenders knowing the score.
"The bad news is it opens against UTSA, a fringe Top 25 team,"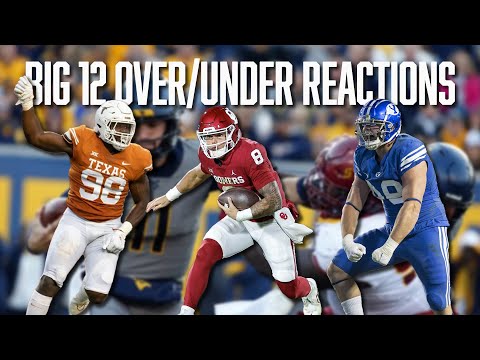 UTSA is #2.
Then we definitely need to make a STATEMENT on opening weekend!
Sept. 2 – UTSA – 6 p.m. – FS1
Sept. 16 – TCU – 7 p.m. – FOX
Sept. 23 – Sam Houston – 6 p.m. – Big 12 Now on ESPN+
Oct. 12 – West Virginia – 6 p.m. – FS1
Houston: 4.5 — JUST RIGHT
Dana Holgorsen's program is trending in the wrong direction — and that's a problem since they're making the jump to the Power 5 this fall. So after going 12-2 and then 8-5, a 4.5 win-total looks right in 2023.
The Cougars are hoping to overcome a mass exodus of transfer portal departures (namely at OL) by bringing in former Big 12 QB Donovan Smith from Texas Tech to take over for longtime starter Clayton Tune.
This tells me the AAC was full of a bunch of pansies who did whatever the TV channels told them to do, resulting in horrible day games for us year after year. And those days are over. Byeeeeee!
Written by someone that did ~1 minute of research. Not saying that 4.5 isn't right. The comments are below basic.
Well, we can't complain about start times.
At first I thought this thread was about Holgie's record at UH.
When and what time is the rice game?
People said we have catching up to do. Last time I looked the football shape hasn't changed or tackling, running, throwing, kicking or punting it.Talking about money? I never seen a dollar bill tackle anyone. Are we talking players? If that, that's on the coach.
Watching those highlights, Smith was impressive. He doesn't mind throwing it into coverage, but really threaded the needle a few times. A couple of those big plays were as a result of great plays by the receivers. Of course that is always the case with the QB and WRs.
That's what I was trying to imply. His TD to Int ratio was 12 TDs and 8 picks last season, a far cry from Tune's 40-10 ratio. We are pretty spoiled at the QB position, so much so that the 9th QB taken in the NFL draft was the recipient of a ton of negativity on this board. Maybe a little comparison of the two last year would be in order.
Donovon Smith
147 comp, 222 attempts, 66%, 12 TD, 8 ints, 1505 yards, 6.8 yd per attempt
Clayton Tune
334 comp, 496 attempts, 67.3%, 40TD, 10 ints, 4074 yards, 8.2 yd per attempt
Didn't we lose to tech though?
I would rather have the win than have tune throw 5 to 10 yard passes and having tank rack up the yards after catch and still lose.
Tune had to overcome horrible early impressions. 11/9 and 15/10 TD/INT ratios in 2019 and 2020 were hard to overcome for many fans, especially if you watched him play. You could predict the INTs/fumbles/sacks early in his career.
Credit goes to him for turning that around