Davis is back at SMU and Etienne is only a So? AAC should be fun this season.
edwards- no weakness, no strong strength except shooting…needs to improve rebounding
taze- doesnt want taze to win dunk contest…needs to change his mindset on how to use his athleticism
Carlton- has a long way to go, but got him in good shape
tramon - improved but ways to go
jamal - needs to improve his consistency
fab and marcus- clearly above the rest, being held back by the rest of roster
then it was cut off for technically reasons…marcus never got a chane to speak
Interesting that Memphis has four on the first and second team, while Houston has one, and one of Memphis' players is projected to be ROY…
But the same folks that voted in those players picked Houston to win the conference and Memphis second.
Who knows what ends up happening, but this is an implicit but pretty solid vote for Sampson as top coach in the American, IMO.
EDIT: Randy–I knew that when I posted. My eyes forgot to tell my fingers.
We've only got 1 player on first two teams
Williams' great grandkids probably disappointed he's only Second Team.
Suggests that the voters know Penny is their coach.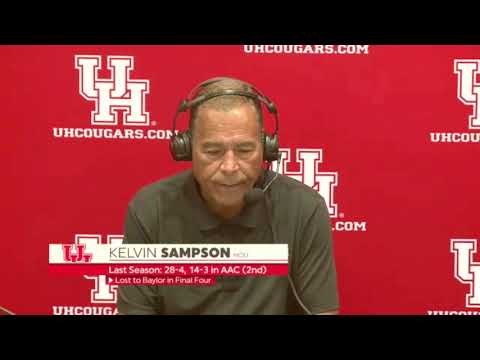 Coach Kelvin Sampson discusses how the newcomers in the backcourt and the frontcourt have done in practice thus far.
Because of the amount of time they've spent in the UH program, Coach Sampson mentions Marcus Sasser and Fabian White have looked the best so far in practice.
Maybe the genius media have never heard of Edwards. Should also be some incentive for White.
Heard it here first. At season's end, no less than 3 Coogs on AAC first and second teams all-conference. Book it.
What a joke.
voting done by the league's head coaches
Well then. Definitely an opportunity to shove it in their collective face. Maybe one or more of them are butthurt that Edwards didn't join their clown show.
Haha. Edward's was Big12 Honorable Mention LAST YEAR. And so this year he's not worthy of 2nd team consideration in the AAC? That was the Big12 by the way. Not to mention a guard heavy Baylor team that I think might have won it all with probably 2-3 of their guards on Big12 first and second teams.
For the all the experts here, CKS knows what greatness looks like and he is working towards that. I was expecting him to mention that Fabian and Marcus to be elite or close to it and he did that. I believe they will be the biggest contributors and we will go as far as they take us. We will need Kyler to join as the third member of the group sometime by January and if Tramon joins them too we will be great.
We've got four key contributors back from last year's Final Four run. Sasser, White, Chaney and Mark combined for 157 points in the NCAA tournament.
Kyler Edwards scored 35 points as a freshman in Tech's 2019 NCAA tournament run to the Finals.
Coach is doing a masterful job of keeping those guys focused, hungry and humble.
It is not easy to reload rosters every season and with the portal and early departures it is becoming the norm. That is why I don't crown these other teams for bringing in transfers.They have to be able to blend in with the culture, schematics and chemistry.
Unfortunately, I think Larry Brown game planning at Memphis will help them a lot