We need some more after this year lol
That's some good analytics right there: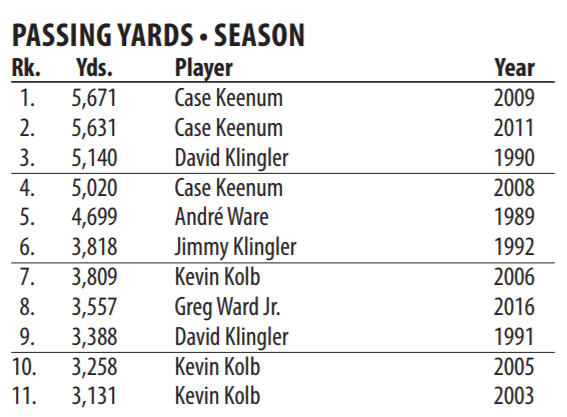 Those screenshots are from last year's media guide and don't include King who finished with 2,982 yards which would be good for 13th.
And career-wise: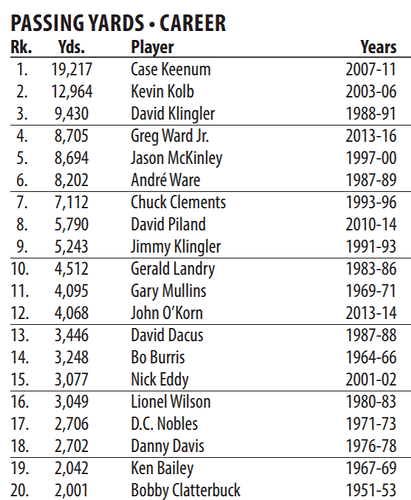 King has 4,262 yards now which puts him 11th. Good chance he ends up as high as 7th.
Interesting cooincidence.
I'm actually more nervous about our QB situation after this year. We don't really have a QB of the future in the roster right now.
CDH sounds high on Tune. I am not. I would venture to say most on here are not impressed either so far. He seems like a Postma clone to me capable of backup magic but not an every game all season opponents have tape on me starter. We may get out of the WR who can throw at QB under CDH. Bryson Smith is already a full time WR now.
Tune was a true freshman. Im willing to give him the benefit of the doubt for now as not everyone is a superstar immediately.
However, hopefully CDH works with him on that long wind up he has when throwing. Needs to shorten it considerably or he's going to have problems.
I also expect CDH's son to be in the mix. He's got some skills and isn't exactly chopped liver.
Speak for yourself. I am high on Tune as well and the fact that CDH is, just re-enforces my opinion. I expect him to do very well under CDH.
…Moon Mullins, Bo Burris, Terry Elston, Ken Bailey, Danny Davis, DC Nobles, …Bobby Clatterbuck, Chuck Clements, Don Flynn…We DID play a little football before Keenum, Ward and King played…and not just when Andre Ware was QB…