There's no way that someone out there still thinks this man shouldn't be gone
He's going to be here another year no matter what.
A change at DC needs to happen by the end of this season.
It wouldn't surprise me to learn that he's ready to leave. When the wolves are nipping at your heels, it's time to fight back or flee. Maybe the latter is more appealing.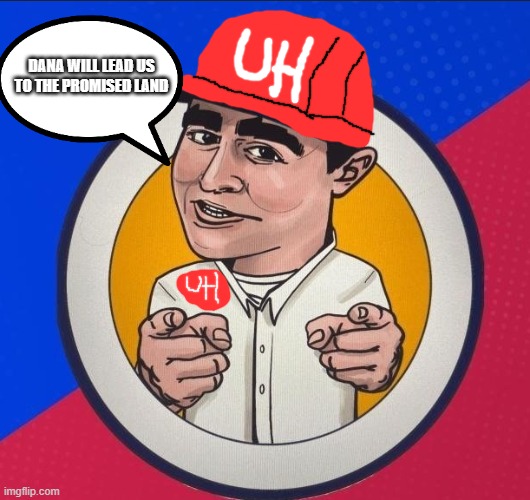 Anymore predictably redundant coach bashing threads out there?
God I wish the mods here would do their job and merge these threads.
Could just ignore, or scroll past but hey
Yeah, that will be like our firing the OL coach/coordinator and bringing the genius from Tulane. How's that working out? Missouri is 7-1. The problem in not the assistants, it's Dana.
I cannot believe that anyone would believe he should be around 1 more freaking day!!! The man has ruined UH football.
Nope. None left here. In fact, if he's back next year I'll send my resignation from Cougar Pride to Madam Herself (with a p.s. to Tillman).
Lol. Yes Dana is a problem but if you don't our DC is a huge problem I say you know very little about football.
Dana isn't going to walk away from the money.
Maybe he is burned out and.will negotiate his buyout? Probably not
Dana made him Co DC in 2019, promoted him to Associate HC in 2020, made him fulltime DC in 2021 all while keeping him as Associate HC. Most people on CoogFans agree our D is terrible and blame the DC. Obviously Dana doesn't agree? So where does the real problem lie?
Who hired and promoted Belk ?
He currently has the worst ranked recruiting class in the entire p4.
He hired the current coaching staff.
He is in charge of this.
Not sure how you convince a DC to take a job where he knows the HC is going to be fired and he'll be having to convince a new HC to keep him around in a year.
[quote="Uhsigep96, post:13, topic:51152"]
He currently has the worst ranked recruiting class in the entire p4.[/quote]
Dude, will you give it a rest! The portal is the hottest, new thing out there. Go on. Take a puff. Everyone is doing it!
I keep Forgetting about all the enormous success we have had in the portal. With charisma and track records of Dana, we will be good.
Thank you for admitting your sins.
I don't have the encumbrance you guys are dealing with regarding DH's last few years at your program, so that of course clouds my view, but I'm familiar with him from his WVU days in the B12. Always liked the guy. He reminds me of Thoros on Game of Thrones, for one thing. Also, every time they show him on the sidelines, he's saying exactly the same string of cuss words I'd be hurling if I was in his spot. I'd like to drink Scotch with the guy, tbh.
I watched his press conference yesterday after reading some of your summaries of him. Everything I heard him say sounded pretty reasonable and accurate. The smart thing for a coach to do at that point IS to tell his team to move on. Next game up. I think some of you are just past the point of no return and it doesn't matter what he says, you're going to hear what you want to hear. I get that.
Good luck rest of the season, and though there weren't many of you, massive respect to the Houston fans who made the trip. Hell, I was thinking about bailing when I saw the weather report, but the rain went south of us, so it wasn't that bad. Last time that Donovan was on the field was with Tech last year and he was a hell of a lot more accurate and dangerous then, than he was yesterday. Never know on the road. KSU plays like dog$hit on the road this year, so I don't expect to see the team you saw yesterday, show up in Austin next week.
Hope I'm wrong, but I have a feeling Holgorsen will be here another year.
I expected Todd Whitting to be fired at the end of last year, but we gave him an extension. We haven't made an NCAA Baseball Regional since 2018. While we had an overall winning record last year, our conference only had one good team (East Carolina) and we lost way too many games we should have won.