CMA's making the rounds it looks like.
https://twitter.com/UHCougarFB/status/816438944615243776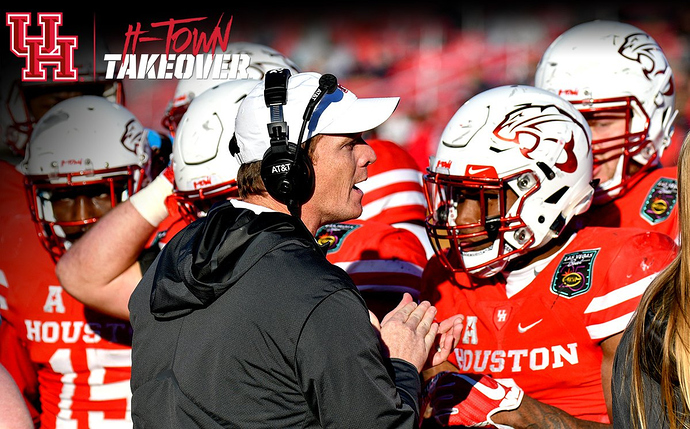 I missed parts of the interview, but what I did hear they really wanted to talk about Applewhite's past coaching influences and whether Herman will be successful at Texas. I lived in Austin for 10 years and the sports radio is garbage. All UT all the time.
Guess that makes sense. How do you think your old boss will do? How did working for Mack Brown (and CTH) influence your coaching style? Wouldn't you attribute all of your success to their great leadership? haha
It would've been nice to have had a DC to talk about but at least CMA could divert the discussion to how promising things look at UH with a great new OC, freshman AA, etc.
Good to hear the 'Go Coogs' at the end…first time I've heard him say it
I thought it was a good interview. Major represents us and himself well. His answers generally go a bit deeper than coach speak.
There has been a false narrative running around that Major was refusing to do interviews. Yet here he is doing interviews. It seems there is a vocal minority who seem to want or expect Major to fail.
I like the guy. And I like his non-coachspeak answers.
I also have a hunch our DC is coming from Alabama which is why he has not been hired yet
A section of the fan base is still upset they didn't get their favorite candidate.
CMA's tenure hinges on the DC hire. If we can continue to field a great defense then we will win a lot of games.
I haven't seen that narrative but considering most of the regular radio hosts have been on vacation through the holidays, I would expect a few more interviews now while they are still talking football.
Kirk Bohl's at the Austin Statesman said that CMA was too busy for an interview in an article he recently did about him. Some of the folks that aren't happy with the hire have taken that to mean that CMA is afraid of the press and promotion which will hurt us with recruits.
If you read TOS, you'd think we rehired Levine, Helton and Dimel. Folks are using the hashtag #MajorFail. So reactionary. Yet if proven wrong no one will own up to their knee-jerking.
Link: http://am1300thezone.iheart.com/onair/the-bottom-line-56583/university-of-houstons-new-head-coach-15435978/
---
Major is very well spoken and really does go into depth with his answers. You can tell he's really proud of picking up AJ Blum and Clay Jennings when asked about them.
Really harps on developing players as graduates and people. He's been saying it since he was hired, but sounds convincing.
Funny that he kind of called Chip out when Chip kind of scoffs at the idea of Houston becoming the next Miami.
Major's not the "entertainer" that our old coach is; he's just a football coach. I remember listening to our old coach on with Chip Brown and you could tell it was like old friends talking back and forth. This wasn't like that; this was more of a normal interview with a football coach. That's not necessarily a bad thing; same was said about Patterson after Francione left TCU and about Petersen after Hawkins left Boise State.
"Reactionary" is such a perfect way to put it. Who the hell knew what Tom Herman would turn out to be? CMA has outperformed expectations at every stop. He deserves the benefit of the doubt.