Got an email today this. Any opinion?
Do they work on the bleacher back seating?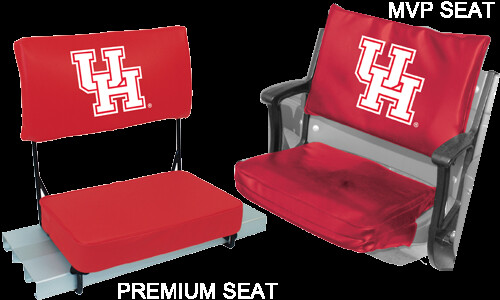 I got the Premium & liked it. Go for it.
(I've since moved to chairbacks.)
No! The ones we got last year sucked. I would most definitely not recommend them. We aren't getting them this season.
The MVP seat might be better. The premium ones we had last year were crappy.
We stand up all game…

Miss the original plastic ones we used but these aren't bad. One season I had one with a small hole so it would fill up with air and water. The other three were in great shape and we will replace those which are not.
I unwittingly got these for chairback seats and have kept them since. The old guys I go to games with have said they are better for the back, hip and other physical problems they have.
We had the premiums last year and liked em well enough to renew this year. Yes they work with bleacher back seating.
If the guy next to you can't respect your space, these may help.
Story about that… At Robertson on year my seat was almost exactly on the 50yd line, about 12 rows up on the home side. The guy next me thought he deserved to have half of himself on either side of the 50 and that the location of the seat numbers didn't matter. He literally sat on my leg to push me to move. I blew in his ear. Real stupid stuff. Moved to seat backs on the other side the next year. Anyway… These seats may have helped. Maybe.
RW…where you able to get the damaged seat replaced in season?
If compared to just the bleacher, then this is better. Agree with the others and the previous ones were better as these would retain water.
We didn't like ours and won't renew because the quality of the chairbacks was poor. If it weren't for that, sure, it would be okay.
The retaining of water is a non-starter for me. Wonder how common this issue is…
The other 3 were just fine
Man, you're lucky you weren't sitting in 12X. That's serious punched IN THE FACE stuff.
We moved over to 12x (-1) the next season. You're right. That was a tough section.

Do we even stand at TDECU? serious question, I need to know.