https://twitter.com/Matt_Fortuna/status/1633902177402929178?s=20
All the AAC success he mentions is by AAC schools that have left or about to leave.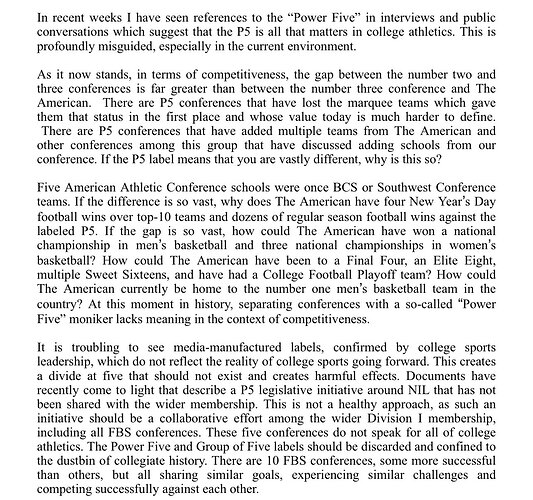 Me too.
The ACC is unbalanced and the Pac is on its last legs. Shouldn't it be a P3 at this point?
I agree with Aresco for the most part. That label is nonsense and allows artificial separation. On the flip side, AAC sometimes operates like a mom and pop shop which doesn't help.
Aresco laying it out that its all in front of the remaining teams.
Aresco is great at pleasantly collecting exit fees and NCAA credits from teams who ran off.
Rutgers, Louisville, UConn, UH, UCF, Cincy so far.
Everybody leaves on good terms as long as the check cashes.
As far as Aresco painting a bright future for the AAC…not as much but ESPN contract eases the pain & he is good at moving on.
Call it whatever he wants - at the end of the day it comes down to the CFP Playoffs / Access Bowls
The AAC just lost 3 of its biggest athletic programs. They added good teams, but it's similar to the Big 12 losing Texas and OU. Their respective replacements don't equal to what the AAC/Big 12 once was. With that being said, the new Big 12 has enough worthy programs to maintain its status of having CFP/Access Bowl auto bids. Adding four corners makes the conference even more attractive, something the AAC will never be able to do beyond this point.
If Cincinnati couldn't even drop a touchdown on Alabama, what makes anyone think UTSA or North Texas could do it? Possible? Sure. Likely? No. The only way around the P5/G5 gap is a 12 team playoff allowing one autobid to the highest ranked G5 team which will most likely go to an AAC or MWC team each year depending on OOC wins.
Regardless - if the end goal of CFB realignment is what it seems, we'll most likely have the "Power 2" conferences (SEC/B1G) , the "bridge conference" (Big 12), and the remaining conferences.
I know some of us have that "oh well" or "who cares" kind of attitude ( myself included) but he's not wrong……we are coming off many years of purgatory ourselves and know exactly how those teams feel……
I do not really feel bad for the lower level D-1 teams but I do for the Tulanes and USFs of the world.( Not Memphis, they can suck it).
Look at the cellar dwellers of the "P-5" conferences that have a free ride on the coattails of the better programs….
Maybe we should divide up all D-1 football programs into FIVE tier one leagues and FIVE tier two leagues and then have relegation of the bottom three / top three teams similar to the Premier league.
You would see a UTSA, Tulane type team move up and
Boston College and Virginia Tech move down….certainly would have everyone with motivation to do well.
Sorry, the train left the rails and headed for tangentville.
ESPN commentators were pushing p2. SEC and the Big 10 then everybody else. With those 2 teams picking off other schools to add to their conferences. First it was BCS n NponBCS schools. It's all crap.
Tulane has not left. They beat USC. Aresco is right. They disrespect UH wins and put Alabama now Kansas above us to be #1 top selection.
Y'all watching the AAC tournament right now? There's like 50 people in the building. Meanwhile. I see thousands and thousands when I'm watching the SEC and Big 12 tourney.
Been like that for many yrs now.
Edit: UH & Memphis will represent tomorrow. But it will still be underwhelming.
Kansas is playing in Kansas City.
There were plenty there last night for WVU and Tech.
@Joprior23 do you think thats about P5 or more the AAC being a weird conf w/not much history? Some of the smaller confs fill up for there championship games
They get their status because of their history. As well as their ability to attract eyeballs. Both in stadium and on TV.
I think Fort Worth is a bad location for the AAC tourney. SMU isn't going to bring out local fans.
"In terms of competitiveness, the gap between the number two and three conferences is far greater than between number three conference and The American."
That statement got me wondering. What is the "number two" conference? Certainly not the Big Ten, is it? I mean the Big Ten football champ lost to the #2 team in the Big 12 in the CFP. The Big 12 has four teams ranking #15 or better in the latest Basketball poll – the Big Ten has only one team.
So is the "number 2" conference in terms of competitiveness the Big 12?
It seems like the media is ranking conferences by revenue when it comes to football. Basketball is ranked by performance.
Yormark may separate basketball and get a clear value of it in the next media deal.