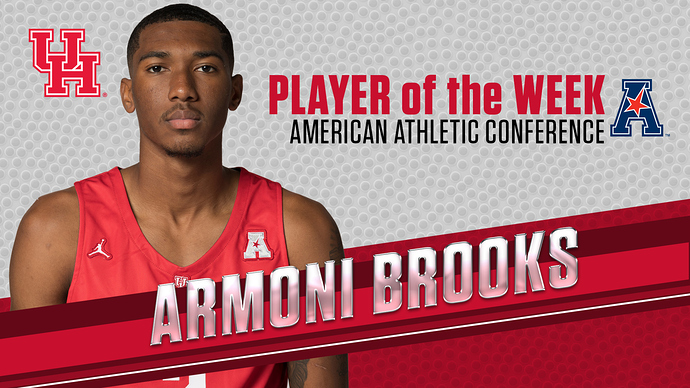 Brooks averaged 14.5 points and 10.5 rebounds per game to lead the Cougars to wins over UT Rio Grande Valley and over No. 18/21 Oregon in the Fertitta Center-opening game on Saturday night.
_ _
Usually one of the Cougars' and the league's elite shooters, Brooks struggled at times from the field but made his presence felt in other areas.
_ _
Brooks, who was named The American's Sixth Man of the Year last season, grabbed a career-high 12 rebounds while playing all but one minute against the Vaqueros.
_ _
Facing No. 18/21 Oregon on Saturday, Brooks scored the first six points in Fertitta Center history with 3-pointers on back-to-back attempts and led the Cougars with 22 points and nine rebounds for his third 20-point game of the season. He also drained a pair of free throws with eight seconds left for the final margin of victory.