Montero can't find the plate.
Edit: Montero you are the Man!!!
Dang it, helluva way to lose.
Get em tomorrow boys.
Bullpen probably gonna cost us a title this year smh
I hate the shift with a red hot passion. Its p### ball.
You'd better hope they outlaw fireworks because having Myers, McCormick, and Vazquez in the same lineup is a one-way ticket to the golf course to watch the WS on TV.
This relief staff needs 2-run leads after the 8th. They don't have the personality to shut down a pennant contender in a one-run game. Stanek gives me a nervous breakdown with runners on 2nd.
Vazquez is a plus hitter, at least for his position
He may be but the illustrious trio produced one run in 11 at bats tonight. I'd probably take him over Maldonado but lately Maldonado has shown he can get one over the fence every four or five games.
Okay and Altuve and Mancini were 0-10. Lot of blame to go around.
Regardless of the lack of hitting tonight they did enough to win.
Two different relievers were putrid tonight.
Vazquez in a typical lineup should bat 9th.
Hopefully the guy we brought up provides something. 880 OPS in AAA. Just give me contact
Are we really gonna have Dubon & Meyers as bench bats in the postseason

I agree on all of that but I can't find the gigabytes to type insults about the whole team. I'm like a master chef. I can only focus on one or two dishes a night.
At this point it's like Meyers( who should be in AAA already) has compromised pics of Click or something……and if Hensley does anything at all, then when Diaz is back Dubon should go to AAA.
Agree. We're too close to the Big Enchilada to let predictably sub-standard players sink the ship. This is where Pollard's point about cutting bait and going for the jugular would pay off. Maybe it would have been better to serve up a pitcher for a shot at a baadaas.
I still think Mancini will show up when it counts but he won't replace Yordan over a six or seven game series.
Still very optimistic about this season.
But Click needs to do some sh*t in the off-season.
*First Base
*Left Field
*Center Field
*Shortstop (depending how well Pena finishes the season). This would be item 4 on the list, obviously
Penas splits: (.516 OPS in August. .666 in July)
I like the kid. But if he runs out of gas this season. You're just gonna give him the starting job next yr with no real competition in spring training? Interesting how Pena finishes his 1st yr all im saying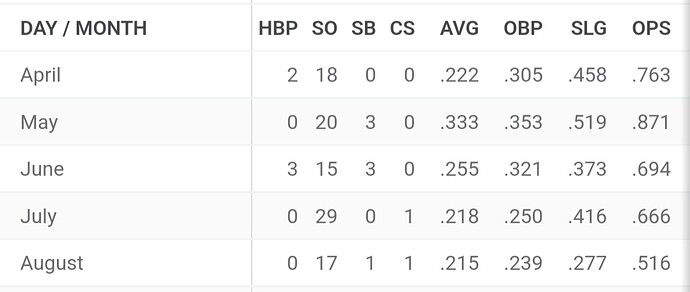 Peña will grow into his position. He's just got to learn to leave those outside pitches alone. He'd do well working with Altuve in the off-season. What I love about Peña is his pop in the bat and most excellent speed on the bases. He runs like a 400m sprinter…long strides.
But I don't think you "give" him anything. He earns it the same way Carlos had to.
He definitely earned it. But i guess Dubon and Diaz were the only guys who could take his at bats at Shortstop. You look at the 40 man, you look at AAA. Whos our depth chart at Short, after Pena.
Peña is frustrating at times but he is going to be an above average SS for many years of team control……
Imagine how bad it would be had we signed Story or Baez?
Dirden could very well be the answer at CF, but if below average players like Dubon, Meyers and McCormick keep playing will never know……very frustrating.
They need one OF this off season……possibly use García or Urquidy as trade bait to get a good one……have not looked at the free agent class yet.
Yainer Diaz is a future All-Star( seen him play multiple times)……he has the "it" factor…. You re-sign Maldy and Gurriel ( will bounce back next year to not hurt you)on the cheap and Yainer backs up Maldy and splits time with Gurriel next year as he can play 1st as well.
I mean next year. He should have to assert himself and earn the job. But my estimation is we will see him develop. He is obviously a very talented young man. And the players seem to really trust him. But he is definitely frustrating at the plate sometimes. His confidence overshadows his knowledge of opposing pitchers. He has to learn these guys are like computers. They learn all your mistakes and put a virus on your ##.
Thats true. At least we didn't reach for Javy Baez. Good luck Hinch with him. Trevor Story i think will figure it out.
But we obviously have other needs. Missing badly on a free agent, can kill ya
I'm eternally grateful we didn't whiff with a FA shortstop. That is one non-move I appreciate. Its the layering on of poor hitters that I think will kill us. Frankly, I think Dusty's job is to only allow one of Myers, McCormick, and Dubon shoot us in the foot every game.
Job #1: Give this excellent starting pitching staff enough runs to hand the ball over. (I know. Its easy to say. But that's the post-season in a nutshell)
We still are the odds on favorite to win the AL. Can we win the WS. Our series against the Mets says maybe so, our series against the Braves says maybe not. We haven't played the Dodgers.
The problem with the bullpen is they aren't throwing 1st pitch strikes. They are constantly behind in the count…