…look pretty frickin' good. Carlos who?

Good Lord, they are lashing the ball.
In fairness it is the Angels. But six homers is really impressive.
Did anyone see Peña hit his first homer as his parents were being interviewed? Cool stuff…
Framber Valdez was great in the opener. Hoping for 15 + wins from him in 2022. Best ground ball pitcher in baseball. (11-6 in 2021 w missing April and May)
I alternate shirts for 'Stros watching.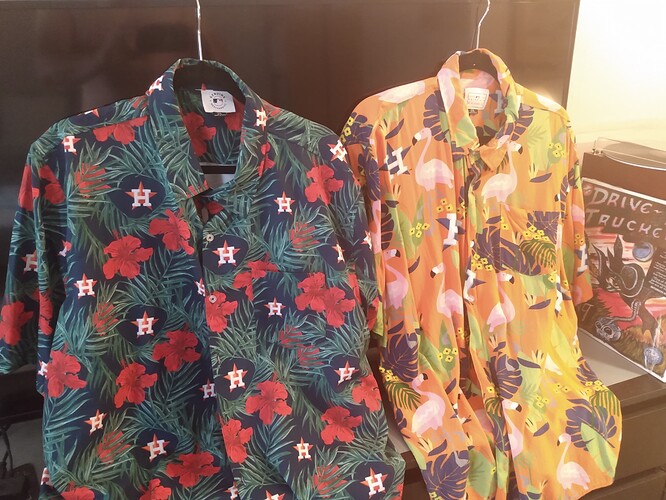 I was watching when that happened- awesome moment!
The Astros have so many weapons. With Tucker an Alvarez becoming stars this franchise is set for awhile.
Pena looks the part. He doesn't have the arm that Correa has but he looks like an all-star in the making.
Tucker and Alvarez have contracts coming up. I hope this is where the Astros decide to lay it down.
Man, if our new SS stays hot we may have caught a break. Maybe Crane Inc. knew more about their franchise than I did.
Plus, they still have the greatest Astro of all time… Jose Altuve.
I've been watching the Stros since I was born in 1980… He's the best Astro I've watched in my life and I grew up watching Nolan, Biggio, Bagwell and Berkman.
I like how they are looking so far but it is really really early in the season and they are playing the Angels. I'll be more interested to see how they are doing after a month or two.
Altuve is great, but Bagwell was a better player.
Better power hitter… Not better player over his entire career… Especially, in the playoffs.
I'm afraid we have seen Altuve's best days
Just like Biggio later in his career…
Only reason I say Altuve is because of his postseason success… He has the 2nd most HRs EVER in postseason play… All-time…!
And he brought a WS pennant to Houston.
No knock against Altuve. Heck I even wear his jersey. But Biggio and Bags are Hall of Famers
I am guessing that Altuve will be as well in the end.
Bagwell and Biggio, the ultimate choke artists. When the truly great prove their metal it's in the playoffs/WS. Crickets.
And Biggio is a bag.
Hope so but I'm not sure he can maintain that level many more years.
I love Baggy but I'm giving the nod to Altuve. Plus, Baggy was in the Mitchell report for steroids. Altuve was one of the few who wasn't using the sign stealing scheme. He has also been a great leader for some great playoff winning teams. I think Altuve is the best second baseman in Astros history by a mile and eventually will end up in Cooperstown.